28.01.2020 | Ausgabe 12/2020 Open Access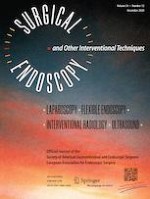 Health benefits and risks during 10 years after Roux-en-Y gastric bypass
Zeitschrift:
Autoren:

M. Chahal-Kummen, O. B. K. Salte, S. Hewitt, I. K. Blom-Høgestøl, H. Risstad, J. Kristinsson, T. Mala
Wichtige Hinweise
Publisher's Note
Springer Nature remains neutral with regard to jurisdictional claims in published maps and institutional affiliations.
Abstract
Background
Long-term evaluations 10 years after Roux-en-Y gastric bypass (RYGB) are limited. We report the development in weight and cardiovascular risk factors during 10 years after laparoscopic RYGB, with evaluation of gastrointestinal symptoms and quality of life (QoL) at 10-year follow-up.
Methods
We performed a prospective longitudinal cohort study. Patients operated with laparoscopic RYGB from May 2004 to November 2006 were invited to 10-year follow-up consultations. Gastrointestinal Symptom Rating Scale (GSRS) questionnaire and two QoL questionnaires were used for analyses of gastrointestinal symptoms and QoL.
Results
A total of 203 patients were operated; nine (4.4%) died during follow-up. Of 194 eligible patients, 124 (63.9%) attended 10-year follow-up consultations. Percent excess weight loss (%EWL) and percent total weight loss (%TWL) at 10 years were 53.0% and 24.1%, respectively. %EWL > 50% was seen in 53.2%. Significant weight regain (≥15%) from 2 to 10 years was seen in 63.3%. Remission rates of type 2 diabetes, dyslipidemia, and hypertension were 56.8%, 46.0%, and 41.4%, respectively. Abdominal operations beyond 30 days after RYGB were reported in 33.9%. Internal hernia and ileus (13.7%) and gallstone-related disease (9.7%) were the most common causes. Vitamin D deficiency (<50nmol/L) was seen in 33.3%. At 10 years, bothersome abdominal pain and indigestion symptoms (GSRS scores ≥3) were reported in 42.9% and 54.0%, respectively, and were associated with low QoL.
Conclusion
We observed significant weight loss and remission of comorbidities 10 years after RYGB. Significant weight regain occurred in a substantial subset of patients. Gastrointestinal symptoms were common and negatively impacted QoL.