01.10.2010 | Original Paper | Ausgabe 5/2010 Open Access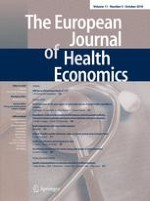 Health insurance for the poor: impact on catastrophic and out-of-pocket health expenditures in Mexico
Zeitschrift:
Autoren:

Omar Galárraga, Sandra G. Sosa-Rubí, Aarón Salinas-Rodríguez, Sergio Sesma-Vázquez
Introduction
This paper aims to estimate the treatment effect of health insurance targeted to the poorest families on catastrophic health expenditures (CHE) and out-of-pocket (OOP) health spending in Mexico. It draws on previous observational analyses of the issues surrounding health expenditure in Mexico [
1
–
5
], but adds a new dimension in the literature by using selection-correction methods for the potentially endogenous treatment variable. The goals of the paper are twofold. First, we compare instrumental variables (IV) results with the "gold standard" experimental evidence [
6
] in a limited dataset. Second, after that validation exercise, we use the IV method with a nationally representative database to explore if the protective effect found in the experiment can be extrapolated to the entire nation. The results suggest that Seguro Popular (SP) has a protective effect on CHE and OOP spending not only in the experimental (mostly rural) areas, but in the country as a whole.
The results presented here are relevant in the Mexican context, but may be of interest beyond the local context. The issue of the impact of universal health insurance on financial protection is of wide relevance across Latin America and other regions with low- and middle-income countries where the poor are disproportionately affected by excessive expenditure on health care.
The paper proceeds as follows. In "
Background
" we present a brief background of the SP program in Mexico. "
Data and sample selection
" presents the data and the sample selection methods, followed by "
Methods
" with the econometric methods used for the estimation of different models. "
Results
" shows the results of the paper, followed by a discussion in "
Discussion
". Finally, in the last section the paper offers some "
Limitations and conclusions
".
Background
Seguro Popular (SP, or "Popular Health Insurance") was implemented in Mexico as a comprehensive health reform effort to provide financial protection in health for the poorest segment of the population [
7
]. Until 2001, health insurance coverage in Mexico was directed only to employees working in the formal sector of the economy. Coverage for formal sector workers included the Mexican Social Insurance System (Instituto Mexicano del Seguro Social, or IMSS), the Government Workers' Social Security and Services Institute (Instituto de Seguridad y Servicios Sociales de los Trabajadores del Estado, or ISSSTE), as well as insurance programs for employees of such state-run enterprises as PEMEX (state oil company) and SEDENA (Ministry of National Defense).
Participants in the informal sector of the economy, as well as the self-employed, had to attend government-sponsored facilities through the Ministry of Health (Secretaría de Salud, or SSA) or pay OOP for medical care at private health services. By 2002, there was evidence of excessive health-related spending for the poorest rural families in Mexico, particularly for the care of older adults (over 60 years of age) and for care during pregnancy [
5
,
8
,
9
]. Most catastrophic expenditures among the poor were attributed to outpatient care and medication. This situation is common among the poorest segments of the population in most developing countries where "a relatively small payment can mean financial catastrophe to a poor person or household, forcing them to reduce other basic expenses such as food, shelter, or their children's education" [
10
], or even suffer financial catastrophe [
11
].
Health insurance for protecting against financial catastrophe
Seguro Popular program
Additionally, on the supply side, all SP-sponsored health facilities from public health providers had to offer a minimum level of health-services quality in order to belong to the SP-sponsored health facilities network.
Data and sample selection
We analyzed the impact of SP on the incidence of CHE and OOP using two different data sources of household expenditure and insurance enrolment. We first used data from the Encuesta de Impacto del Seguro Popular (SP Impact Evaluation Survey) [
33
], and then we also used the Encuesta Nacional de Salud y Nutrición (ENSANUT 2005–2006) (National Health and Nutrition Survey) [
34
].
We selected a specific sample from each of the surveys as follows. For both surveys, we identified households where all members were enrolled into SP ("insured" group); that is, our "treatment" or "exposure" was that everyone in the household be officially enrolled into the SP program. Then, we created a comparison group of households with no publicly funded insurance coverage ("uninsured" group); that is, our controls were households where no person had any type of health insurance. The idea was to remain with those families eligible for the SP program because, by law, families benefiting from other social insurance are not eligible for the SP program. (In sensitivity analyses, we relaxed the strict criteria for determination of treatment: we took a household as affiliated into the program if any member had signed up for the program).
The SP Impact Evaluation Survey is a panel dataset originally composed of 36,000 dwellings. There was baseline information (August 2005) for 32,506 dwellings, and first-wave data collected in mid-2006 with information for 29,836 dwellings [
6
,
35
]. The data were collected in seven states in Mexico (Sonora, San Luis Potosi, Jalisco, Estado de Mexico, Guerrero, Morelos and Oaxaca). The main purpose of this survey was to measure (experimentally) the impact of SP among eligible households (poor households with no health insurance coverage). The criteria used to select the location of the treatment and control clusters were: (1) to include zones where the rate of penetration of the program was very low; (2) to include places where the incorporation of the SP program was being postponed. Note that this data was experimental in design; however, we used the follow-up data only, as if it were a cross-section so that we could maximize the comparability (external validity of the method) with the other data source. (Details on the experimental design have been presented elsewhere [
35
]). From the 29,836 households with relevant data (in the first-wave of data follow-up), we selected the following analytical samples: 4,033 SP-insured households and 16,759 uninsured households (see Table
1
).
Table 1
Descriptive statistics, with and without Seguro Popular (SP), by data source
SP Impact Evaluation Survey

ENSANUT

Outcomes

CHEa

6.64 (0.39)

9.39 (0.22)

0.0000

4.71 (0.32)

6.67 (0.20)

0.0000

OOPb

Outpatient care

269.9 (18.8)

456.9 (15.6)

0.0000

193.5 (21.91)

393.22 (24.98)

0.0001

Inpatient care

303.3 (40.4)

594.1 (26.3)

0.000

270.82 (62.13)

595.42 (54.11)

0.0029

Medicines

480.5 (21.3)

558.1 (12.3)

0.0033

333.21 (18.02)

528.38 (18.96)

0.0000

Covariates

Characteristics of the household head

Age

46.7 (0.25)

47.6 (0.13)

0.0008

44.66 (0.22)

46.65 (0.12)

0.000

Female-headed

21.7 (0.65)

22.8 (0.33)

0.1249

19.35 (0.59)

21.02 (0.32)

0.0147

Formal education (years)

6.34 (0.72)

6.04 (0.04)

0.0003

5.04 (0.05)

5.71 (0.03)

0.000

Indigenous self-identity

23.28 (0.63)

24.55 (0.33)

0.0825

Speak indigenous language

10.29 (0.45)

12.87 (0.26)

0.000

Characteristics of the household

Asset index

−0.25 (0.01)

−0.08 (0.006)

0.0000

−0.50 (0.01)

−0.29 (0.01)

0.000

Children ≤ 1

11.85 (0.51)

15.16 (0.27)

0.0000

14.08 (0.52)

15.41 (0.28)

0.0282

Children ≤ 7

49.61 (0.79)

47.04 (0.39)

0.0034

54.05 (0.75)

46.98 (0.39)

0.000

Adults ≥ 65

19.24 (0.62)

20.95 (0.32)

0.0206

15.54 (0.54)

18.73 (0.30)

0.000

Someone with diabetes

3.83 (0.29)

3.52 (0.14)

0.322

Someone with hypertension

7.72 (0.40)

6.19 (0.18)

0.0002

Someone with gastritis

6.31 (0.36)

5.33 (0.17)

0.0117

Household size (# of persons)

4.30 (0.32)

4.42 (0.02)

0.0012

4.41 (0.03)

4.37 (0.02)

0.2863

Enrolled in oportunidades

67.39 (0.74)

38.79 (0.38)

0.0000

19.91 (0.60)

11.16 (0.24)

0.000

Characteristics of the locality

Rural area

97.21 (0.26)

92.6 (0.20)

0.0000

52.93 (0.74)

34.42 (0.37)

0.000

Deprivation index

−0.03 (0.01)

−0.35 (0.01)

0.0000

−0.60 (0.01)

−0.76 (0.01)

0.000

Instrumental variables

Locality SP coverage

28.74 (0.39)

10.24 (0.13)

0.0000

39.93 (0.39)

11.36 (0.13)

0.000

Randomized to treatment

87.55 (0.52)

32.90 (0.36)

0.0000

Incorporated by 2001

0.34 (0.07)

0.63 (0.06)

0.0304

28.16 (0.68)

8.67 (0.22)

0.000

Incorporated by 2002

67.51 (0.71)

57.52 (0.39)

0.000

Incorporated by 2003

79.36 (0.61)

77.40 (0.33)

0.0070

Incorporated by 2004

95.10 (0.33)

91.11 (0.22)

0.000
The ENSANUT 2006 is a cross-sectional dataset with nationally representative data, which was collected for 48,304 dwellings [
34
]. This dataset contains information about each individual's health, use of health services, socio-economic characteristics of households, access to health programs, and biological health indicators. From the original sample, we took 45,699 households with health expenditure data and health insurance data. The analytical samples included: 4,440 SP-insured households and 16,376 uninsured households. The characteristics for the sample are summarized in Table
1
.
Methods
In addition to estimating the impact of SP on CHE, we also used the same (linear) econometric framework to estimate the effect of SP on OOP expenditures. We utilized the annualized OOP spending (in pesos of 2006). In sensitivity analyses we also used binary indicators of OOP spending, i.e., any positive expenditure related to outpatient care, inpatient care, and medicines, respectively.
Results
Discussion
The proposed IV models perform well when compared against the "gold standard" results obtained in the experimental setting. This paper's results on the effect of SP program participation on CHE are generally comparable to those found through a randomized controlled evaluation [
35
,
61
]. King and colleagues found that SP reduces the probability of incurring CHE by 23% with ITT analysis and by 55% using the CACE. Using IV methods in the (follow-up) experimental survey, we find a protective effect of 49%.
Applying the IV method at the national level, using ENSANUT, we find a protective effect of 54% for the country as a whole. Hence, the selectivity-corrected, nationally representative results seem to suggest that SP has a protective effect for the entire country, not only in the pilot experimental areas.
On the other hand, there are some important differences between the experimental results [
6
]. The experiment did not find a protective effect of SP on medicine expenditures in the SP Evaluation Survey; however, using the alternative IV method we do find an important protective effect. Although the IV method using ENSANUT also found decreases in outpatient and medicine expenditures at the national level, it did not find significant effects in inpatient expenditures (and this result was the same using alternative definitions of SP enrollment at the household level, alternative sets of covariates and alternative sets of instrumental variables).
A major problem in Latin America, and other regions with low- and middle-income countries, is the high percentage of households that must incur in out-of-pocket health care expenditures. This form of financing frequently involves CHE, particularly among households within the first two deciles of income, or those living in poverty [
16
]. A multi-country analysis has shown that a group of countries in Latin America have some of the highest rates of CHE [
17
], confirming the lack of financial protection among the poor in the region. The results in our paper show the protective effect of health insurance for the poor.
Limitations and conclusions
The results in this paper show that the popular insurance system for the poor in Mexico has a protective effect on excessive health expenditures, and on most OOP health-related expenditures for the Mexican population.
The paper has some limitations. The definition of CHE does not consider all those households that postpone their health care for the lack of financial resources. That is, it does not address the issue of selection into CHE. Health expenditure is, by definition, conditional on utilization. Thus, there is another possible econometric specification to take into account the endogeneity generated by health seeking behavior. Such correction would require health status, clinical and outcomes data on non-users to exogenously assess needed medical expenditures [
62
,
63
].
Moreover, the present analysis does not include alternative indicators that can also describe the effect of the incidence of health expenditures on the household's financial status, such as impoverishing expenditures (spending that moves the household's economic status below the poverty line).
At the household level, the cross-sectional surveys do not provide information about the length of exposure to the program (i.e., how long the households have been enrolled in SP) or about the quality of the services offered, both of which could have an important effect on health expenditures.
In spite of the shortcomings, this paper presents a reasonable IV approach showing a robust protective effect of SP on CHE and on most OOP health expenditures. The impact of SP on the reduction of CHE was significant using the SP Impact Evaluation Survey; thus, replicating, and "validating" the IV method. We also found protective results with the ENSANUT using a nationally representative sample. The SP reduced expenditures in outpatient care as well as expenditures on medicines.
This paper provides the first selectivity-corrected evidence that the universal health insurance program for the poor in Mexico—Seguro Popular—has a protective effect on both catastrophic and out-of-pocket health expenditures not only at the limited localities included in the experimental evaluation, but at the national level. The lessons from Mexico may be of relevance to other low- and middle-income countries around the world trying to financially protect the poorest segments of society against excessive health spending.
Acknowledgments
We thank Martha María Téllez-Rojo, Gustavo Nigenda, and Miguel Angel González-Block for inviting us to participate in the Seguro Popular Program Evaluation, commissioned by the Mexican Ministry of Health (specifically by the Dirección General de Evaluación del Desempeño) to the National Institute of Public Health (INSP). The results presented in this paper constitute additional work conducted by the authors. The views do not represent the official position of any of the institutions that funded or facilitated that evaluation. The organizations did not have any role in study design, analysis, or interpretation; nor in the writing of the manuscript or the decision to submit the manuscript for publication. The authors are solely responsible for the contents. We acknowledge useful comments by Jeffrey Harris, Claudio Lucarelli, José Urquieta, Hugh Waters and various participants at seminars at the Mexican School of Public Health/National Institute of Public Health (INSP), the Mexican Central Bank, the European Conference on Health Economics (ECHE), and the American Society of Health Economists (ASHE). The comments of three anonymous referees also helped to improve the paper.
Open Access
This article is distributed under the terms of the Creative Commons Attribution Noncommercial License which permits any noncommercial use, distribution, and reproduction in any medium, provided the original author(s) and source are credited.
Footnotes
1
The federal contribution per enrolled family consists of three components:(1) a quota per family provided by the federal government (the so called "social quota") that represents 15% of one minimum salary; (2) an additional federal contribution (named "aportación solidaria federal") that represents 1.5 times the quota per family; and (3) a state contribution that represents 0.5 times the quota per family [
26
].
2
By law, administrative costs cannot exceed 4% of the total federal budget transferred to the states for the SP program [
28
]. Analyzing the trends in operational costs of the National Commission for Social Protection in Health (or CNPSS for "Comisión Nacional de Protección Social en Salud") in the period 2004-2007, those costs have not exceeded 4% of the total costs of the SP [
26
]. However, the administrative costs of managing the funds specifically designed for catastrophic health spending were not considered.