01.12.2016 | Research article | Ausgabe 1/2016 Open Access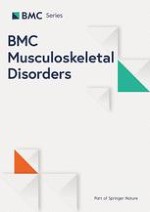 Health-related quality of life and clinical outcomes following medial open wedge high tibial osteotomy: a prospective study
Zeitschrift:
Autoren:

Christoph Ihle, Atesch Ateschrang, Leonard Grünwald, Ulrich Stöckle, Tim Saier, Steffen Schröter
Wichtige Hinweise
Competing interests
SS is a member of the AO Joint Preservation Expert Group. The other authors have no conflicts of interest to declare.
Authors' contributions
CI participated in the design of the study and drafted the manuscript. TS and LG carried out data collection, and performed the statistical analysis. AA and US participated in its design and coordination, and helped to draft the manuscript. SS conceived the study, participated in its design, and acquired funding. All authors read and approved the final manuscript.
Abstract
Background
Open wedge high tibial osteotomy (HTO) is an established method for the treatment of patients with varus malalignment and medial compartment osteoarthritis. In these patients, health-related quality of life (HRQL) can be improved by using this procedure. The purpose of the present study consisted in evaluating HRQL up to 18 months after HTO, comparing the results to values of the German normal population, and in analyzing the impact of preoperative HRQL on the postoperative clinical result. It was hypothesized that normal values in physical and mental health can be achieved within 18 months after operation. Study design: Prospective case series. Level of evidence: IV.
Methods
120 patients were included in this prospective case series from 12/2008 to 12/2011. All patients underwent open wedge HTO without a bone graft using the TomoFixTM plate. HRQL was assessed by using the SF-36 questionnaire, preoperatively, as well as 6, 12, and 18 months postoperatively. Regular scoring, norm-based scaling, and the physical and mental component summary scores (PCS and MCS) were evaluated. Clinical outcome was assessed by using Lequesne, Lysholm, HSS and IKDC Score.
Results
HRQL could be described in 96 patients. The PCS of HRQL showed a statistically significant pre- to postoperative improvement (30.2 ± 13.4 to 45.9 ± 13.5 after 18 months). A reduced preoperative mental component summary score (MCS) resulted in lower values of each clinical score (
p
 < 0.05) and in a prolonged duration of incapacity for work (MCS < 50:15.0 ± 12.8 weeks, vs. MCS ≥ 50: 9.1 ± 4.8 weeks,
p
 < 0.05). MCS values improved from the pre- to postoperative measurements and comparable values to the normal population were reached already within 6 months after surgery (46.0 ± 14.9 pre-operatively and 48.5 ± 13.7 after 6 months), and after 18 months even a score of 49.5 ± 12.4 was achieved.
Conclusion
Lower preoperative mental component score results in reduced postoperative clinical outcome and prolonged duration of incapacity for work after HTO. In contrast to PCS, MCS showed comparable values to the normal population within 6 months after HTO.