01.03.2013 | 2012 SSAT Plenary Presentation | Ausgabe 3/2013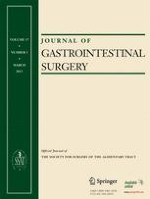 Health-Related Quality of Life in Patients with Oesophageal Cancer: Analysis at Different Steps of the Treatment Pathway
Zeitschrift:
Autoren:

Marco Scarpa, Luca M. Saadeh, Alessandra Fasolo, Rita Alfieri, Matteo Cagol, Francesco Cavallin, Eleonora Pinto, Giovanni Zaninotto, Ermanno Ancona, Carlo Castoro
Wichtige Hinweise
Discussant
Dr. Vic Velanovich (Tampa, FL):
Dr. Scarpa and colleagues should be congratulated on performing a well-done study on the quality of life in patients with oesophageal cancer. They carefully chose well-validated, reliable instruments that were appropriate for the questions that they asked. They have shown that after about a year after oesophagectomy, patient perceived quality of life returns to baseline after an initial diminishment. This is an important finding and will be very valuable in counseling patients prior to oesophagectomy. I frequently get the question when I am counseling a patient for an oesophagectomy of "Doc, what's my life going to be like without my esophagus"? We have previously shown similar findings in patients after pancreatectomy,
1
so these findings are consistent with ours. This, however, speaks to the bigger issue—namely, that we should not only be interested in how long our patients liver after cancer treatment, but also how well they live.
I have two questions for the authors:
1. How have they incorporated these findings in their counseling of patients prior to oesophagectomy? I suspect that patients would be very interested in knowing what their life would be like after an esophagectomy.
2. As the authors may know, patient perceived improvement in quality of life over time when there is no independently observable improvement is what is called "response shift." That is, patients readjust their quality of life "thermostat" to a lower level so that what was previously perceived as a diminishment in quality of life is now viewed as the new normal, and, therefore, not a diminishment at all. So, in the authors' opinion, how much of the improvement in quality of life scores is really improvement in quality of life and how much is response shift?
Once again, I would like to congratulate the authors on a very important study and I look forward to their response.
1. Warnick SJ, Velanovich V. Correlation of patient derived utility values and quality of life after pancreaticoduodenectomy for pancreatic cancer. J Am Coll Surg 2006;202:906–911
Closing Discussant
Dr. Marco Scarpa (Padova, Italy):
Thank you, Dr. Velanovic for your kind words and for your appropriate comments. In effect, we started to include quality of life data in our preoperative counseling with the patients when we finished our meta-analysis on quality of life after oesophagectomy [1]. Patients need to know that their physical, emotional and social improvement will be slow but it finally will occur. Moreover, in the postoperative follow-up they need to be reassured about their functional complains especially during the first post operative year. Now, we can also tell them that our data come from other our patients who had the same experience and this seems to reassure them even more.
The second question touch a critical aspect of quality of life analysis: quality of life data are subjective data and not objective ones. Common clinical measurement of functional status assess only the physical domain and these data can be retrieved by the physician but other quality of life domains, such as the psychological and the social one, can be reported only by patients introducing an unavoidable grade of subjectivity. Thus, we completely agree with Dr. Velanovic about an important component of response shift in the quality of life improvement observed. A famous example is the work of Brickman et al. showing that, after an adaptation period of 1 year, paraplegic accident victims and lottery winners reported practically the same level of overall wellbeing, a phenomenon known as the wellbeing paradox [2]. Apparently, an overall judgment of quality of life includes not only the physical domain as well as the psycho-social components but also a component of coping [3]. In our opinion, since we are well conscious that a perfect restoration of the preoperative health condition are quite unlikely in most of the patients the coping component is the one that physicians should aim to enhance to restore the better quality of life possible after the esophagectomy.
1. Scarpa M, Valente S, Alfieri R, Cagol M, Diamantis G, Ancona E, Castoro C. Systematic review of health-related quality of life after esophagectomy for esophageal cancer. World J Gastroenterol. 2011 Nov 14;17(42):4660–74.
2. Brickman P, Coates D, Janoff-Bulman R. Lottery winners and accident victims: Is happiness relative? J Pers Soc Psychol 1978; 36:917–27
3. Lazarus RS. Coping theory and research: past, present, and future. Psychosom Med 1993; 55:234–47
Abstract
Background
The main outcome parameters in oesophageal surgery have traditionally been morbidity and mortality, but quality of life (QL) has become an important consideration in view of the severity and persistence of postoperative symptoms. The aim of this study was to analyse QL before and after oesophagectomy for oesophageal cancer and to explore possible association with patient's and disease characteristics.
Patients and Methods
One hundred twenty-six consecutive patients presenting with oesophageal cancer to the Oncological Surgery Unit of the Veneto Institute of Oncology between 2009 and 2011 were enrolled in this prospective study. The patients were asked to answer three QL questionnaires (the Italian versions of the QLQ-C30, the QLQ-OES18, and the IN-PATSAT32 modules developed by the European Organization for Research and Treatment of Cancer) at the time of disease diagnosis, after neoadjuvant therapy, immediately after surgery and at 1, 3, 6 and 12 months postoperatively.
Results
Global quality of life (QL2 item) seemed to improve after neoadjuvant therapy but it dropped markedly after surgery. It then rose to a value in between the one registered after neoadjuvant therapy and the one at diagnosis. Emotional function and dysphagia were associated to QL2 at diagnosis. After neoadjuvant therapy, age, oesophageal stenosis, emotional function and dysphagia were associated to good quality of life at that stage. After surgery, pain was associated to quality of life at that stage. During the early follow-up phase (1–3 months after surgery), role function and postoperative urinary complications were associated to QL2. In the long-term follow-up (6–12 months), adjuvant therapy, eating disorders and postoperative complications were associated to poor quality of life.
Conclusions
Postoperative complications are associated to long-term emotional and physical function impairment which can lead to a significantly impaired global quality of life. Postoperative pain relief plays a key role in achieving a good postoperative quality of life. Finally, HRQL after oesophagectomy seems to be a function of therapeutic efficacy rather than of the specific surgical procedure used.