01.12.2015 | Study protocol | Ausgabe 1/2015 Open Access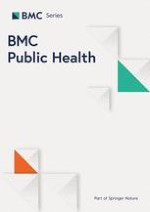 Health resorts as gateways for regional, standardised, sports club based exercise programmes to increase the weekly time of moderate- to vigorous-intensity physical activity: study protocol
Zeitschrift:
Autoren:

Christian Lackinger, Albert Strehn, Thomas Ernst Dorner, Josef Niebauer, Sylvia Titze
Wichtige Hinweise
Competing interests
The authors declare that they do not have any competing interests.
Authors' contributions
CL designed the study, together with AS and ST, and also prepared the grant application and drafted the manuscript. JN and TED provided essential knowledge concerning the intervention and measurements. ST is the principal investigator of the study. All the authors have read and approved the final version of the manuscript.
Abstract
Background
More than 10 % (approximately 60,000) of the adult population in Styria, a federal state in the south of Austria, is granted a residential stay in a health resort each year. The target group for these stays is the general population aged between 30 and 65 years with minor symptoms such as risk factors for cardio-metabolic diseases. Stays are financed by health insurance companies and last up to three weeks. The treatment during the stays consists of exercise and nutritional intervention as well as psychological support when needed. However, because of the absence of regional programmes linked with the residential stay, the sustainability of the interventions is questionable.
Methods/Design
This prospective, controlled, multicentre, open-label study will compare two groups. Participants will be included in the study if they live in any of eight predefined Styrian regions and do not meet the minimal WHO physical activity guidelines. Those allocated to the intervention group will receive a voucher for 12 regional, standardised, sports club based exercise sessions. The members of the control group will come from different but matched Styrian regions and will receive an informative written brochure. The primary outcome will be the weekly level of health-enhancing physical activity, which will be objectively measured with an accelerometer and supplemented by an activity log book. Together with potential determinants of physical activity it will be assessed before, 10 weeks after and 12 months after the residential stay. Additionally, psychosocial determinants will be assessed by questionnaire and fitness (cardiorespiratory fitness, handgrip, balance) will be measured. In addition to the changes in measurable parameters, processes will be evaluated to learn about the facilitators and barriers of the implementation of the programme.
Discussion
It is known that during the residential stay, participants are receptive to new opportunities supporting health behaviour change, but that these measures are not sustained after discharge. The structured cooperation between the health sector that has to inform the participants and the sports sector that provides the wide network of standardised programmes is the strength of the study, but at the same time a challenge.
Trial registration
ClinicalTrials.gov (Identifier:
NCT02552134
; date of registration: 15 September 2015)