01.12.2012 | Research | Ausgabe 1/2012 Open Access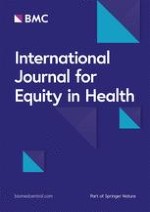 Health seeking behavior for cervical cancer in Ethiopia: a qualitative study
Zeitschrift:
Autoren:

Zewdie Birhanu, Alemseged Abdissa, Tefera Belachew, Amare Deribew, Hailemariam Segni, Vivien Tsu, Kim Mulholland, Fiona M Russell
Wichtige Hinweise
Competing interests
We declare that we have no competing interest.
Authors' contributions
Conceived and designed the study: AA, FMR, AD, ZB TB, HS, KM. Coordinated the field work: AA. Analyzed the data: AA, TB, ZB. Drafted the manuscript: ZB, TB and AA. Reviewed the article: AA, TB, AD, HS, KM, FMR. Critically reviewed several drafts of the article: VT. All authors have read and approved this manuscript.
Abstract
Background
Although cervical cancer is a leading cause of cancer related morbidity and mortality among women in Ethiopia, there is lack of information regarding the perception of the community about the disease.
Methods
Focus group discussions were conducted with men, women, and community leaders in the rural settings of Jimma Zone southwest Ethiopia and in the capital city, Addis Ababa. Data were captured using voice recorders, and field notes were transcribed verbatim from the local languages into English language. Key categories and thematic frameworks were identified using the health belief model as a framework, and presented in narratives using the respondents own words as an illustration.
Results
Participants had very low awareness of cervical cancer. However, once the symptoms were explained, participants had a high perception of the severity of the disease. The etiology of cervical cancer was thought to be due to breaching social taboos or undertaking unacceptable behaviors. As a result, the perceived benefits of modern treatment were very low, and various barriers to seeking any type of treatment were identified, including limited awareness and access to appropriate health services. Women with cervical cancer were excluded from society and received poor emotional support. Moreover, the aforementioned factors all caused delays in seeking any health care. Traditional remedies were the most preferred treatment option for early stage of the disease. However, as most cases presented late, treatment options were ineffective, resulting in an iterative pattern of health seeking behavior and alternated between traditional remedies and modern treatment methods.
Conclusion
Lack of awareness and health seeking behavior for cervical cancer was common due to misconceptions about the cause of the disease. Profound social consequences and exclusion were common. Access to services for diagnosis and treatment were poor for a variety of psycho-social, and health system reasons. Prior to the introduction or scale up of cervical cancer prevention programs, socio-cultural barriers and health service related factors that influence health seeking behavior must be addressed through appropriate community level behavior change communications.