01.12.2019 | Research article | Ausgabe 1/2019 Open Access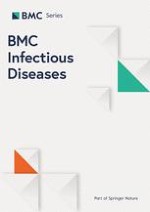 Healthcare-associated infections: bacteriological characterization of the hospital surfaces in the University Hospital of Abomey-Calavi/so-ava in South Benin (West Africa)
Zeitschrift:
Autoren:

F. Cyr Doscoph Afle, Alidéhou Jerrold Agbankpe, Roch Christian Johnson, Olivia Houngbégnon, Sègbè Christophe Houssou, Honoré Sourou Bankole
Abstract
Background
Healthcare-associated infections have become a public health problem, creating a new burden on medical care in hospitals. The emergence of multidrug-resistant bacteria poses a difficult task for physicians, who have limited therapeutic options. The dissemination of pathogens depends on "reservoirs", the different transmission pathways of the infectious agents and the factors favouring them. Contaminated environmental surfaces are an important potential reservoir for the transmission of many healthcare-associated pathogens. Pathogens can survive or persist in the environment for months and be a source of infection transmission when appropriate hygiene and disinfection procedures are inefficient. The aim of this study was to identify bacterial species from hospital surfaces in order to effectively prevent healthcare-associated infections.
Methods
Samples were taken from surfaces at the University Hospital of Abomey-Calavi/So-Ava in South Benin (West Africa). To achieve the objective of this study, 160 swab samples of hospital surfaces were taken as recommended by the International Organization for Standardization (ISO 14698-1). These samples were analysed in the bacteriology section of the National Laboratory for Biomedical Analysis. All statistical analyses were performed using SPSS Statistics 21 software. A Chi Square Test was used to test the association between the Results of culture samples and different care units.
Results
Of the 160 surface samples, 65% were positive for bacteria. The frequency of isolation was predominant in Paediatrics (87.5%). The positive samples were 64.2% Gram-positive bacteria and 35.8% of Gram-negative bacteria.
Staphylococcus aureus
predominated (27.3%), followed by
Bacillus
spp
.
(23.3%).
The proportion of other microorganisms was negligible.
S. aureus
and
Staphylococcus spp.
were present in all care units. There was a statistically significant association between the Results of culture samples and different care units (
χ
2 = 12.732;
p
= 0.048).
Conclusion
The bacteria found on the surfaces of the University Hospital of Abomey-Calavi/So-Ava's care environment suggest a risk of healthcare-associated infections. Adequate hospital hygiene measures are required. Patient safety in this environment must become a training priority for all caregivers.