01.12.2018 | Primary research | Ausgabe 1/2018 Open Access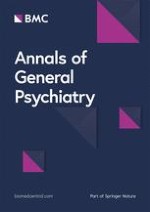 Healthcare professionals' perceptions on the emotional impact of having an inadequate response to antidepressant medications: survey and prospective patient audit
Zeitschrift:
Autoren:

Rajnish Mago, Andrea Fagiolini, Emmanuelle Weiller, Catherine Weiss
Abstract
Background
Despite the availability of effective antidepressants, about half of patients with major depressive disorder (MDD) display an inadequate response to their initial treatment. A large patient survey recently reported that 29.8% of MDD patients experiencing an inadequate treatment response felt frustrated about their medication and 19.2% were frustrated with their healthcare provider. This survey and chart audit evaluated healthcare professionals' (HCP) views on the emotional impact of having an inadequate response to antidepressant medication.
Methods
HCPs who frequently treat patients with MDD completed a survey and chart audit of their MDD patients currently experiencing an inadequate response to antidepressant treatment.
Results
287 HCPs completed 1336 chart audits. HCPs reported that 38% of their patients were trusting/accepting of their MDD medications and 41% of their patients trusted/felt confident with their healthcare provision. Conversely, HCPs reported that 11% of their patients were frustrated with their medication and 5% with their healthcare benefits. HCPs cited impact on daily life (53%) and treatment issues (lack of efficacy and side effects; 50%) as the main drivers for their patients' feelings of frustration. When HCPs recognized patients' feelings of frustration, the top concerns of the HCPs were worsening of symptoms (43%) and non-compliance (41%).
Conclusions
This survey and chart audit highlights the emotional burden associated with inadequate responses to MDD treatment in addition to persistent symptoms. Differences between the views of the HCPs and patients are highlighted and suggest that HCPs may underestimate the full impact that having to try numerous medications has on their patients.