01.12.2017 | Research article | Ausgabe 1/2017 Open Access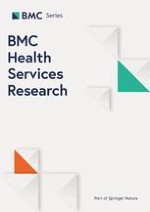 Healthcare professionals' views of the enhanced recovery after surgery programme: a qualitative investigation
Zeitschrift:
Autoren:

Georgia Herbert, Eileen Sutton, Sorrel Burden, Stephen Lewis, Steve Thomas, Andy Ness, Charlotte Atkinson
Abstract
Background
The Enhanced Recovery After Surgery (ERAS) programme is an approach to the perioperative care of patients which aims to improve outcomes and speed up recovery after surgery. Although the evidence base appears strong for this programme, the implementation of ERAS has been slow. This study aimed to gain an understanding of the facilitating factors and challenges of implementing the programme with a view to providing additional contextual information to aid implementation. The study had a particular focus on the nutritional elements as these have been highlighted as important.
Methods
The study employed qualitative research methods, guided by the Normalisation Process Theory (NPT) to explore the experiences and opinions of 26 healthcare professionals from a range of disciplines implementing the programme.
Results
This study identified facilitating factors to the implementation of ERAS: alignment with evidence based practice, standardising practice, drawing on the evidence base of other specialties, leadership, teamwork, ERAS meetings, patient involvement and education, a pre-operative assessment unit, staff education, resources attached to obtaining The Commissioning for Quality and Innovation (CQUIN) money, the ward layout, data collection and feedback, and adapting the care pathway.
A number of implementation challenges were also identified: resistance to change, standardisation affecting personalised patient care, the buy-in of relevant stakeholders, keeping ERAS visible, information provision to patients, resources, palatability of nutritional drinks, aligning different ward cultures, patients going to non-ERAS departments, spreading the programme within the hospital, differences in health issue, and utilising a segmental approach.
Conclusions
The findings presented here provide useful contextual information from diverse surgical specialties to inform healthcare providers when implementing ERAS in practice. Addressing the challenges and utilising the facilitating factors identified in this study, could speed up the rate at which ERAS is adopted, implemented and embedded.