01.12.2012 | Study protocol | Ausgabe 1/2012 Open Access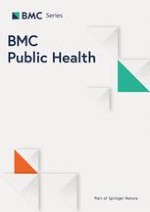 Healthy eating and active living for diabetes in primary care networks (HEALD-PCN): rationale, design, and evaluation of a pragmatic controlled trial for adults with type 2 diabetes
Zeitschrift:
Autoren:

Steven T Johnson, Clark Mundt, Allison Soprovich, Lisa Wozniak, Ronald C Plotnikoff, Jeffrey A Johnson
Wichtige Hinweise
Electronic supplementary material
The online version of this article (doi:
10.​1186/​1471-2458-12-455
) contains supplementary material, which is available to authorized users.
Competing interests
None to declare.
Authors' contributions
The HEALD trial is part of a research program headed by JAJ. The lead investigators (STJ, JAJ and RCP) conceived the research questions and study design. STJ drafted the first version of the manuscript. CM, AS and LW participated in drafting this manuscript and will be responsible for supporting the implementation and evaluation of HEALD. All authors contributed to drafting this manuscript and approved the final version.
Abbreviations
CDA
Canadian diabetes association
GLMM
Generalized mixed-model analysis
GLTEQ
Godin leisure time exercise questionnaire
HEALD-PCN
Healthy eating and active living for diabetes in primary care networks
IPAQ
International physical activity questionnaire
RE-AIM
Reach, effectiveness, adoption, implementation and maintenance.
Background
Globally, 346 million people have diabetes and the prevalence of type 2 diabetes mellitus (T2DM) is expected to increase to an estimated 440 million in the next 20 years [
1
,
2
]. Consequently, treating and managing this population will be a substantial burden to health care systems [
3
]. There is, however, sufficient evidence to suggest that drug treatment, physical activity (PA), medical nutrition therapy, and body weight management can mitigate longer-term complications of diabetes [
2
] and thus potentially lessen the impending public health burden. Healthy eating and active living are two main ingredients of T2DM self-management. Attention to both nutrition and physical activity (exercise) has repeatedly and consistently been shown to be associated with improvements in metabolic risk [
4
–
7
]. As such, guidelines for healthy eating and active living have been developed for use in clinical practice [
2
,
8
]. Despite the availability of evidence-based guidelines, the majority of adults with T2DM follow unhealthy dietary patterns and are insufficiently active [
9
,
10
] suggesting current frontline approaches to promoting and supporting healthy self-management may not be effective or efficient. Several community-based or 'real world' interventions have demonstrated that self-management programs can be effective in improving behavioral and clinical outcomes [
11
–
16
]. Although these real world examples have shown success, questions still remain around the longer-term impacts of these interventions at the patient level and at the system level (i.e., primary care setting). More specifically, if patient exposure needs to be increased (i.e., program intensity) to sustain shifts towards positive self-management behaviours seen in what might be considered the early stages of adoption (e.g., 3 months), what are the longer-term costs within the context of sustainability for the patient and, at the same time, within the context of program delivery?
Acknowledging that gaps still exist in terms of our understanding of real world exemplars of diabetes self-management delivered in primary care, we designed the Healthy Eating and Active Living for Diabetes in Primary Care Networks (HEALD-PCN) study to explore questions around the effectiveness and efficiency of delivering an evidence-based self-management program linked with community resources within in a newly emerging model of primary care. We intend to develop a comprehensive understanding of the system requirements for implementation, which will in turn provide supportive evidence to inform policy makers with respect to resource allocation and the potential for program sustainability.
The main objective of HEALD-PCN is to evaluate a novel implementation of an evidence- based self-management program for patients identified as having T2DM within an established Primary Care Network environment in Alberta, Canada. The primary study hypothesis is that those allocated to HEALD-PCN program will self-report higher levels of moderate and vigorous physical activity and objectively monitored daily pedometer steps. Secondary objectives are to complete a comprehensive evaluation to understand why the program did or did not have an impact, identify critical factors to successful implementation and to develop recommendations to mitigate barriers to successful implementation if the intervention proves effective.
Methods/design
Discussion and conclusions
We have described the rationale and design of a trial that is pragmatic and applicable to examine the effectiveness and efficiency of a population-based strategy for two important components of chronic disease management among adults with T2DM. The HEALD-PCN intervention is a relevant approach to diabetes management, although some might argue that a self-management study for T2DM is not a novel intervention and that there is sufficient evidence for clinical improvements among this population after participating in an self-management interventions - we would agree. What is novel about this study is the implementation of the program in a "real world" setting, and by expanding the typical inter-disciplinary nature of the "diabetes team"; that is, participants will be recruited from primary care clinics in different areas of Alberta and Exercise Specialists who are now becoming more a part of the primary care disease management team, will deliver the program in routine care as it might be offered if not part of a research study. Moreover, we have established partnerships between a model for health care delivery (i.e., PCN) and a local resource (i.e., community recreation facility) that should support the achievement of some of the behavioural and clinical targets of diabetes management. This study will provide new information around clinical- and cost-effectiveness in the context of everyday primary care and thus it will significantly add to the current literature in health service delivery for diabetes self-management. The broader evaluation using the RE-AIM framework will produce timely and meaningful data for policy makers and health care providers interested in questions around the implementation and sustainability of this type of program. Having described the strengths of the current study, we also acknowledge the limitations of the HEALD-PCN study. First, although the design for the evaluation of HEALD-PCN is applicable from a health system delivery perspective (i.e., recruiting from patient registries to simulate regular patient invitations to PCN programs), it still remains a weaker design than a formal randomized controlled trial. Nevertheless, there is a need for pragmatic studies of this type, as questions related to the external validity should now take precedence over concerns of internal validity (i.e., the efficacy of the intervention has already been established) [
18
,
52
,
53
]. Second, as is often found in controlled quality improvement studies, the definition of usual care for the management of T2D is rather vague. For this study usual care may not reflect usual care in other primary care settings. To help answer any questions with respect to usual care in this setting, we will be collecting information from a system capacity perspective and from a patient perspective. As a result of the expected heterogeneity of usual care across the PCNs in this study, the generalizability of the findings will have to be contextualized to the individual PCNs if there are indeed substantial differences in what is deemed usual care. Nevertheless, the implementation of the study in four separate primary care settings allows for broader, comprehensive understanding with respect to issues of program effectiveness, applicability, feasibility and context. It is recognized that the currently available body of knowledge around this type of investigation handcuffs health policy makers and care providers when developing and initiating evidence-informed policies for new and existing health technologies and interventions [
52
–
54
].
In summary, healthy eating and active living remain cornerstones of T2DM management. Since the global prevalence of T2DM is expected to increase beyond previous estimates, best practices for promoting these self-management cornerstones at a population level are urgently needed. In addition to the T2DM population, the results of this study may provide valuable information relating to the implementation of other physical activity-based chronic disease prevention and management interventions.
Acknowledgements
This work is supported in part by grants from Alberta Health and Wellness, the Lawson Foundation, and an Emerging Team Grant to the Alliance for Canadian Health Outcomes Research in Diabetes (ACHORD) (reference #: OTG-88588), sponsored by the Canadian Institutes for Health Research Institute of Nutrition, Metabolism and Diabetes.
JAJ is a Senior Health Scholar with the Alberta Innovates-Health Solutions (AI-HS) and is a Canada Research Chair in Diabetes Health Outcomes.
RCP is funded by a Senior Research Fellowship Award from the National Health and Medical Research Council of Australia
This article is published under license to BioMed Central Ltd. This is an Open Access article distributed under the terms of the Creative Commons Attribution License (
http://​creativecommons.​org/​licenses/​by/​2.​0
), which permits unrestricted use, distribution, and reproduction in any medium, provided the original work is properly cited.
Competing interests
None to declare.
Authors' contributions
The HEALD trial is part of a research program headed by JAJ. The lead investigators (STJ, JAJ and RCP) conceived the research questions and study design. STJ drafted the first version of the manuscript. CM, AS and LW participated in drafting this manuscript and will be responsible for supporting the implementation and evaluation of HEALD. All authors contributed to drafting this manuscript and approved the final version.