18.01.2017 | Original Article | Ausgabe 1/2017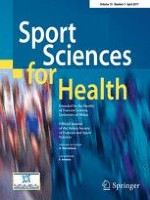 Heart rate and GPS data analysis of kiteboard course racing during the Italian Championship
Zeitschrift:
Autoren:

Gianluca Caimmi, Gabriele Semprini
Abstract
Background
Despite the growing popularity of kiteboard course racing, there is a paucity of scientific literature about the performance in this sport.
Purpose
The aim of the present study was to analyze displacement (speed and direction) and heart rate (HR) data in high-level kiteboarders during competition.
Methods
Five kiteboarders, ages 33.8 ± 5.3 years, weight: 80.6 ± 4.8 kg, height: 181.2 ± 7.8 cm, were monitored with a GPS receiver and an HR monitor during four races of the Italian Kiteboarding Championship for a total of 46 regattas.
Results
Each regatta lasted 926 ± 175 s and was composed by 11 ± 1 beats. The average sailing speed recorded in competition was 8.9 ± 0.9 m/s. The speed was higher (
p
< 0.01) in the downwind leg (9.9 ± 1.4 m/s) than in the upwind leg (7.9 ± 0.3 m/s). The orientation of the kiteboard with respect to the wind direction during the upwind sailing phase was 66.4° ± 6.3°, resulting in being wider than in traditional sailing sports. The mean HR was 82.7 ± 0.9% of HR
reserve
and 86% ± 1.2 HR
max
, showing a relatively high exercise intensity compared to most of other sailing sports.
Conclusion
The duration and intensity of a kiteboard racing suggest the need of specific physical training programs for competitive kiteboarders.