04.10.2017 | Brief Communication | Ausgabe 1/2018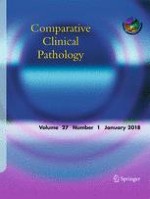 Heat shock protein 70 of
Trypanosoma evansi

is phylogenitically closer to salivaria than stercoraria homologs
Zeitschrift:
Autoren:

Vikrant Sudan, Amit Kumar Jaiswal, Daya Shanker
Abstract
Trypanosomioisis is an economically significant disease affecting a wide range of animals in tropics and subtropics. Heat shock proteins (HSPs) play an important role in trypanosomes by altering parasite's physiology and adaptability as its life cycle alternates between the poikilothermic invertebrate vector and the homoeothermic vertebrate hosts. The aim of the present study was find out the phylogenetic relationship between
T. evansi
and other trypanosomes using
HSP 70
gene.
HSP 70
of
Trypanosoma evansi
was cloned, characterized, and phylogenitically analyzed with
HSP 70
sequences of other trypanosomes. Results revealed that
HSP 70
is a highly conserved molecule in trypanosomes. It showed 100% identity with other sequences of
T. evansi
and
T. equiperdum
. Alongside, it showed much higher identities with sequences of trypanosomes of anterior station group than those of posterior station group. Hence, it was concluded that
HSP 70
of
T. evansi
is phylogenitically closer to salivaria than stercoraria homologs. The finding is important from evolutionary point of view.