26.01.2017 | Technical Note | Ausgabe 6/2017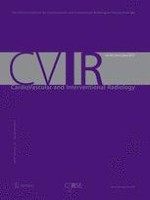 Helical-Tip Needle for Transthoracic Percutaneous Image-Guided Biopsy of Lung Tumors: Results of a Pilot Prospective Comparative Study with a Standard Tru-Cut Needle
Zeitschrift:
Autoren:

Andrea Veltri, Marco Busso, Diego Sardo, Valeria Angelino, Adriano M. Priola, Silvia Novello, Matteo Barba, Gaia Gatti, Luisella Righi
Abstract
Purpose
To prospectively evaluate feasibility and diagnostic performance of the 14-gauge helical-tip (Spirotome™, Cook® Medical, Bloomington, USA) needle in transthoracic needle biopsy (TTNB) of lung lesions, compared to a conventional 18-gauge Tru-Cut needle.
Materials and Methods
Study was institutional review board approved, with informed consent obtained. Data from synchronous Spirotome and Tru-Cut image-guided TTNB of 20 consecutive patients with malignant peripheral lung tumors larger than 3 cm were enrolled for pathologic characterization and mutational analysis. Samples obtained with Spirotome and Tru-Cut needle were compared for fragmentation, length, weight, morphologic and immunohistochemistry typifying, tumor cellularity (TC) and DNA concentration.
Results
The technical success rate for TTNB with Spirotome was 100%, and no major complications occurred. Less fragmentation (mean 2 vs. 3 fragments,
P
= .418), greater weight (mean 13 vs. 8.5 mg,
P
= .027) and lower length (mean 10.2 vs. 12.6 mm,
P
= .174) were observed with Spirotome compared to Tru-Cut needle. Accuracy of Spirotome and Tru-Cut needle in defining cancer histotype was similar (90%). Absolute and relative TC (mean 42 vs. 38, 124 vs. 108/10HPF), and DNA concentration (mean 49.6 vs. 39.0 ng/μl) were higher with Spirotome compared to Tru-Cut needle, with no statistical significance (
P
= .787 and
P
= .140, respectively).
Conclusions
Percutaneous 14-gauge Spirotome TTNB of selected lesions is feasible and accurate. It provides adequate samples for diagnosis, comparable to 18-gauge Tru-Cut needle, with a higher amount of tumor tissue (weight, TC, DNA concentration) even in shorter samples.