01.12.2016 | Research article | Ausgabe 1/2016 Open Access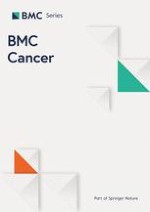 Helicobacter pylori

promotes angiogenesis depending on Wnt/beta-catenin-mediated vascular endothelial growth factor via the cyclooxygenase-2 pathway in gastric cancer
Zeitschrift:
Autoren:

Ningning Liu, Ning Zhou, Ni Chai, Xuan Liu, Haili Jiang, Qiong Wu, Qi Li
Wichtige Hinweise
Competing interests
The authors declare that they have no competing interests.
Authors' contributions
QL and NL designed the manuscript. QL designed the in vivo experiments. NZ and NL performed the in vivo experiments with the help of XL and HJ. QW and NC performed the in vitro experiments. NL wrote the paper. All authors reviewed and approved the manuscript.
Authors' information
All authors are oncologists in China. QL is is professor in the Department of Medical Oncology, Shuguang Hospital, Shanghai University of Traditional Chinese Medicine.
Abstract
Background
Helicobacter pylori
is an important pathogenic factor in gastric carcinogenesis. Angiogenesis (i.e., the growth of new blood vessels) is closely associated with the incidence and development of gastric cancer. Our previous study found that COX-2 stimulates gastric cancer cells to induce expression of the angiogenic growth factor VEGF through an unknown mechanism. Therefore, the aim of this study was to clarify the role of angiogenesis in
H. pylori
-induced gastric cancer development.
Methods
To clarify the relationship between
H. pylori
infection and angiogenesis, we first investigated
H. pylori
colonization, COX-2, VEGF, beta-catenin expression, and microvessel density (MVD) in gastric cancer tissues from 106 patients. In addition, COX-2, phospho-beta-catenin, and beta-catenin expression were measured by western blotting, and VEGF expression was measured by ELISA in
H. pylori
-infected SGC7901 and MKN45 human gastric cancer cells.
Results
H. pylori
colonization occurred in 36.8 % of gastric carcinoma samples. Furthermore, COX-2, beta-catenin, and VEGF expression, and MVD were significantly higher in
H. pylori
-positive gastric cancer tissues than in
H. pylori
-negative gastric cancer tissues (
P
 < 0.01).
H. pylori
infection was not related to sex or age in gastric cancer patients, but correlated with the depth of tumor invasion, lymph node metastasis, and tumor–node–metastasis stage (
P
 < 0.05) and correlated with the COX-2 expression and beta-catenin expression(
P
 < 0.01). Further cell experiments confirmed that
H. pylori
infection upregulated VEGF in vitro. Further analysis revealed that
H. pylori
-induced VEGF expression was mediated by COX-2 via activation of the Wnt/beta-catenin pathway.
Conclusions
The COX-2/Wnt/beta-catenin/VEGF pathway plays an important role in
H. pylori
-associated gastric cancer development. The COX-2/Wnt/beta-catenin pathway is therefore a novel therapeutic target for
H. pylori
-associated gastric cancers.