01.01.2015 | Original Article | Ausgabe 1/2015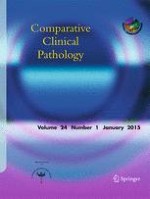 Hematological and biochemical profiles in goats during the transition period
Zeitschrift:
Autoren:

M. Tharwat, A. Ali, F. Al-Sobayil
Wichtige Hinweise
Place of the work
The work was performed at the Veterinary Teaching Hospital, College of Agriculture and Veterinary Medicine, Qassim University.
Abstract
The aim of the present study was to investigate changes in the hematobiochemical profiles in goats during the transition period. Blood samples were collected from 15 goats during the transition period (weeks −3, −2, −1, 0, +1, +2, and +3). Blood picture revealed neutrophilia 1 week after kidding and monocytopenia +2 and +3 weeks postpartum. A decrease in erythrocyte count was observed a week before parturition. Total protein increased dramatically from week −1 until week +3 postpartum. Globulin increased from week −2 until week +3. Albumin concentration decreased during week −2 until week +3. Calcium concentration decreased at weeks −1, 0, and +2 but returned to prepartum levels at week +3 postpartum. Phosphorus concentration increased significantly at weeks −2 and +2 but decreased at parturition and a week after. The serum activity of aspartate aminotransferase increased significantly from week −2 prepartum till week +2 postpartum. The activity of γ-glutamyl transferase increased significantly a week after parturition. Alkaline phosphatase activity showed decreases at parturition and 3 weeks later. The concentration of total cholesterol decreased significantly at weeks −1 and 0. The serum concentration of progesterone decreased sharply at parturition and thereafter, while the serum concentration of estrogen reached its maximum at parturition and then declined. Hyperglycemia was observed at weeks −2, +1, +2, and +3. The serum concentration of cortisol increased significantly at parturition. In conclusion, the hematobiochemical variables and lipid profiles reported in this study could be used as a reference for goats during the transition period.