07.10.2016 | Original Article | Ausgabe 1/2017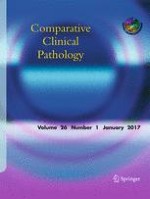 Hematological and histopathological assessment of pacu (
Piaractus mesopotamicus

) after treatment of pathogens with veterinary medicinal products
Zeitschrift:
Autoren:

S P Carraschi, T Florêncio, N F Ignácio, C V Ikefuti, C Cruz, M J T Ranzani-Paiva
Abstract
Fish species are impacted by multiple pathogens, and they are exposed to the chemicals used to treat these diseases at several stages during the aquaculture production cycle. This study performed hematological and histopathological evaluations of pacu (
Piaractus mesopotamicus
) that had been naturally infected with
Aeromonas
sp
.
,
Streptococcus
sp.,
Ichthyophthirius multifiliis
,
Trichodina heterodentata
, and
Anacanthorus penilabiatus
and treated with enrofloxacin and toltrazuril or with florfenicol and thiamethoxam. After 7 days of treatment from nine fishes were collected blood, via caudal puncture, and samples of the gills, liver, and kidneys. Following toltrazuril and enrofloxacin treatment, fish exhibited leukocytosis with lymphocytosis. With thiamethoxam and florfenicol treatment, the fish showed an increase in hematocrit, hemoglobin level, mean corpuscular volume, and mean corpuscular hemoglobin concentration and a decrease in red blood cells. The infected control fish presented aneurysms and a disruption of the secondary lamellae, which can cause death. The drugs used in this study stimulated the immune systems in the fish or caused electrolyte imbalances, which were temporary.