11.04.2018 | Original Article | Ausgabe 5/2018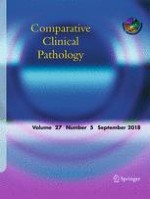 Hematological, biochemical, serological, and molecular monitoring of blood donor dogs vaccinated with CaniLeish® for the prevention of Leishmaniosis
Zeitschrift:
Autoren:

Viola Vannucci, Alessandra Gavazza, Anyela Andrea Medina Valentin, Veronica Gori, George Lubas
Abstract
The use of systemic preventive measures in dogs living in areas with Leishmania infection is advisable, particularly in blood donors. The aim of this study was to monitor healthy blood-donor dogs immunized with the vaccine CaniLeish® by means of hematological, biochemical (serum total protein, albumin, protein electrophoresis, and C-reactive protein), serological (Speed Leish K™ and IFAT), and molecular assays (qualitative PCR, qlPCR). Twenty-four dogs were monitored at (T0), second (T1), third (T2) immunizations, and 2 months (T3) after the initial immunization and at the first (T4), second (T5), and third (T6) annual booster. The results were as follows: slight hyperproteinemia (29.5%,
p
 > 0.05) observed throughout the monitoring period (T0-T6); increase in C-reactive protein (46.4%,
p
 < 0.05) (at T3-T6); significant alterations in β-1 and β-2 globulin fractions (as absolute and percentage values,
p
 < 0.05), Speed Leish K™ assay negative at T0 and T4-T6, positive IFAT titres of 1/40 (9.5%) at T0, and T3-T6, 1/80 (8.6%) at T1-T4, 1/160 (6.7%) at T1-T2 and T4, and 1/320 (1.9%) at T2 and T4; and qlPCR positive in 7.7% of samples at T3-T6. The vaccination with Canileish® induced changes in a few clinico-pathological and serological markers, which are likely associated with the activation of the immune response. These changes should be carefully considered when evaluating vaccinated dogs included in blood transfusion programs. The use of the CaniLeish® vaccine could be recommended as an additional preventive measure and could represent an important practice in the field of canine transfusion medicine.