01.03.2016 | Original Article | Ausgabe 2/2016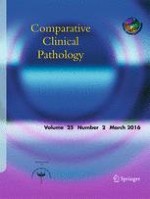 Hematological reference values of healthy adult Sangsari sheep (Iranian fat-tailed sheep) estimated by Reference Value Advisor
Zeitschrift:
Autoren:

Mahmood Ahmadi-hamedani, Khosro Ghazvinian, Nahid Atyabi, Peymaneh Khanalizadeh, Mohammad Ali Masoum, Mohammad Sadegh Ghodrati
Abstract
The expected values of hematologic and serum biochemical parameters in domestic animal species can be affected by breed, age, environment, and nutrition. There is a lack of published data on hematological reference values of the Sangsari breed. Thus, the purpose of the present study was to determine hematological reference values for the Sangsari sheep in order to form a basis for clinical interpretation. In this study, we used a total 63 healthy Sangsari sheep at the same physiological status for both sex with two ages (2–4 years) from June to July 2014. Hematological parameters were measured by routine methods, and finally, reference interval (RI) was determined by the robust method and Box-Cox transformation (Reference Value Advisor). The RI of hematological parameters obtained in this study includes the following: hematocrit (Hct) 14.3–35.3 %; Hb 5.4–12.52 gr/dl; mean corpuscular volume (MCV) 26.2–36.3 fl; mean corpuscular hemoglobin (MCH) 8.6–12.3 pg; mean corpuscular hemoglobin concentration (MCHC) 22.3–45.2 gr/dl; RBC 5.1–12.6 × 10
6
; PLT 42.1–725.7 × 10
3
; WBC 4.4–17.7 × 10
3
; neutrophil 1.8–10.18 × 10
3
; band neutrophil 0.00–0.15 × 10
3
; lymphocyte 0.3–7.54 × 10
3
; eosinophil 0.00–1.2 × 10
3
; and monocyte 0.00–0.32 × 10
3
. Compared with literature data, Hct, Hb, RBC indices, RBC, and PLT were lower in other sheep breeds whereas total and differential WBC counts were similar to other breeds. RBC and Hb were significantly higher in females (
P
 ≤ 0.05). In the present study, significant differences in some of the hematologic parameters were found, the most probable explanation of which can be attributed to breed-specific variation. The RI defined for Sangsari sheep can be considered to avoid misinterpretation of hematology results.