01.03.2012 | Original Article | Ausgabe 3/2012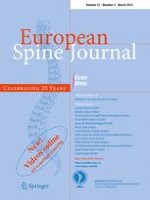 Hemivertebra resection in children, results after single posterior approach and after combined anterior and posterior approach: a comparative study
Zeitschrift:
Autoren:

Kiril Mladenov, Philip Kunkel, Ralf Stuecker
Abstract
Purpose
To compare the results after hemivertebra resection through a single posterior approach and through a combined anterior and posterior approach.
Methods
This is a retrospective study on patients treated by hemivertebra resection with monosegmental instrumentation for congenital scoliosis at a single institution. The patients were divided into two groups according to the surgical approach. Both groups were compared for curve correction, complication rate and perioperative data. Paired samples
T
test was used for statistical evaluation.
Results
Twenty-five consecutive patients were included. In 12 cases the hemivertebra resection was performed through a single posterior approach (SPA) and in 13 via a combined anterior and posterior approach (CAPA). Curve correction was similar in both groups (59 vs. 55%,
p
> 0.05). Duration of surgery (272 vs. 319 min) and postoperative mechanical ventilation were shorter in the SPA group (5 vs. 30 h), but did not reach statistical significance (
p
> 0.05). Significant blood loss necessitating blood transfusion was observed in six patients operated through an SPA and in 8 patients operated through a CAPA. The duration of the ICU management (1 vs. 3 days) and the hospital stay (12 vs. 19 days) were significantly shorter in the SPA group (
p
< 0.05). Less surgery related general complications were observed in the SPA group (0 vs. 38%).
Conclusions
Similar correction of the main and the compensatory curves can be achieved with single posterior and combined anterior and posterior hemivertebra resection. Benefits of the SPA are lower complication rate and shorter recovery period.