01.12.2019 | Research | Ausgabe 1/2019 Open Access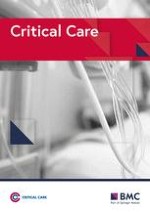 Hemoadsorption with CytoSorb shows a decreased observed versus expected 28-day all-cause mortality in ICU patients with septic shock: a propensity-score-weighted retrospective study
Zeitschrift:
Autoren:

Willem Pieter Brouwer, Servet Duran, Martijn Kuijper, Can Ince
Wichtige Hinweise
Electronic supplementary material
Publisher's Note
Springer Nature remains neutral with regard to jurisdictional claims in published maps and institutional affiliations.
Abbreviations
ARDS
Acute respiratory distress syndrome
CRRT
Continuous renal replacement therapy
ECMO
Extracorporeal membrane oxygenation
sIPTW
Stabilized inverse probability of treatment weights
Introduction
Sepsis and septic shock are a major health burden worldwide leading to approximately 5 million deaths annually [
1
–
3
]. Although the reported incidence of sepsis varies widely and is notoriously unreliable, it is the leading cause of mortality globally, and its incidence currently is thought to rise due to aging populations, increasing comorbidity and greater recognition due to increasing awareness of this disease over the past decades [
4
,
5
]. Septic shock is thought to arise from a disrupted balance between pro-inflammatory and anti-inflammatory cytokines in response to infection, ultimately leading to cell and organ dysfunction [
5
]. Recent advances in the field of sepsis treatment had variable success, presumably because sepsis is a very heterogeneous disease entity and therefore resists a one-size-fits-all approach. To date, only advancement in supportive care, such as timely delivery of antibiotics and early fluid resuscitation, has led to a significant improvement in the outcome of sepsis [
4
]. Other treatment modalities, such as continuous renal replacement therapy (CRRT) have not shown clinical benefit, although it was shown that cytokines such as tumour necrosis factor (TNF) α and interleukin (IL) 1β could be cleared from serum [
6
–
8
].
Recently, CytoSorb has been developed and approved in Europe since 2011 for use in patients with severe cytokinaemia [
9
–
11
]. CytoSorb is a filter which can be used in addition to continuous renal replacement therapy (CRRT), and other devices such as hemodialysis, heart-lung machines and extracorporeal membrane oxygenation. It is a non-pyrogetic, sterile single-use filter for the removal of endotoxins and cytokines [
10
]. Since it is able to reduce circulating cytokines such as IL-1β, TNF-α, IL-6 and IL-10 by more than 90%, CytoSorb is thought to have considerable impact on a derailed host response causing shock [
10
,
12
]. This treatment modality has shown promising results in animal studies [
13
,
14
] and case reports [
15
–
18
]. Nevertheless, a recent randomized trial in patients with septic shock and acute lung injury (ALI) or acute respiratory distress syndrome (ARDS) assessed, but was not powered for mortality, and found no difference in clinical outcome [
11
,
19
]. It is therefore unknown whether CytoSorb leads to a survival benefit.
Hence, the aim of the current study is to investigate whether the application of CytoSorb in addition to CRRT leads to a reduction in 28-day mortality compared to CRRT alone in patients with septic shock in the ICU, by using the inversed probability of treatment weights method.
Patients and methods
Results
Discussion
It is important to investigate factors which are associated with survival for CytoSorb treatment. For the current cohort, next to older age, we found that higher lactate levels at baseline of CytoSorb therapy were associated with a worse outcome. Indeed, these factors are components of the SOFA score itself. Apparently, particularly the measures of the hemodynamic components of the SOFA score showed the strongest association with outcome. Hence, it seems reasonable to assume that CytoSorb therapy should be initiated as early as possible in the disease course. Nonetheless, 8 (12%) patients received CytoSorb at least 1 day after CRRT was already started. We performed a sensitivity analysis in which we excluded these patients and found no deviations from the main results.
Conclusion
We have shown, to our knowledge, in the largest cohort of septic shock patients to date, that CytoSorb treatment may lead to an improved 28-day survival compared to CRRT alone, both on basis of observed versus predicted mortality rates as well as by IPTW. The current data should be further corroborated by randomized clinical trials.
Acknowledgements
Not applicable.
Ethics approval and consent to participate
All patients, their relatives or legal representatives gave their informed consent for the admission to the ICU and to undergo specific interventions. Patients were not re-contacted for the purpose of this study. To re-contact patients for informed consent for the current retrospective chart study would introduce a serious bias because a large proportion is out of follow-up or deceased. All procedures were carried out per standard of care per protocol. This retrospective cohort study was performed in accordance with the protocol, the principles of the Declaration of Helsinki 1964 as modified by the 64th WMA General Assembly, Fortaleza, Brazil, October 2013, with notes of clarification on paragraph 29 and 30 added by the WMA General Assembly, and the local national laws governing the conduct of clinical research studies. The study was approved by the ethics committee of the Maasstad Hospital Rotterdam, the Netherlands (MZ0582-07-14, L2017-030).
Consent for publication
Not applicable.
Competing interests
WPB, MK and SD declare that they have no competing interests. CI has received a grant from CytoSorb to commence a randomized controlled trial on the effect of the adsorber on the microcirculation of critically ill patients at the department of Intensive Care of the Erasmus Medical Center Rotterdam.
Open Access
This article is distributed under the terms of the Creative Commons Attribution 4.0 International License (
http://​creativecommons.​org/​licenses/​by/​4.​0/​
), which permits unrestricted use, distribution, and reproduction in any medium, provided you give appropriate credit to the original author(s) and the source, provide a link to the Creative Commons license, and indicate if changes were made. The Creative Commons Public Domain Dedication waiver (
http://​creativecommons.​org/​publicdomain/​zero/​1.​0/​
) applies to the data made available in this article, unless otherwise stated.
Publisher's Note
Springer Nature remains neutral with regard to jurisdictional claims in published maps and institutional affiliations.