01.12.2021 | Research | Ausgabe 1/2021 Open Access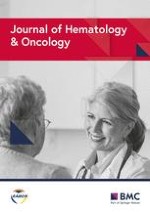 Hepatic NOD2 promotes hepatocarcinogenesis via a RIP2-mediated proinflammatory response and a novel nuclear autophagy-mediated DNA damage mechanism
Zeitschrift:
Autoren:

Yi Zhou, Liang Hu, Wenqing Tang, Dongping Li, Lijie Ma, Hongchun Liu, Shuncai Zhang, Xiaojie Zhang, Ling Dong, Xizhong Shen, She Chen, Ruyi Xue, Si Zhang
Wichtige Hinweise
Yi Zhou, Liang Hu and Wenqing Tang have contributed equally to this work
Supplementary Information
Publisher's Note
Springer Nature remains neutral with regard to jurisdictional claims in published maps and institutional affiliations.
Abbreviations
PAMP
Pathogen-associated molecular pattern
NOD2
Nucleotide-binding oligomerization domain 2
PRR
Pattern recognition receptor
NATCH
Central nucleotide-binding domain
CARD
Caspase activation and recruitment domain
ATCC
American Type Culture Collection
ROC
Receiver operating characteristic
GSEA
Gene Set Enrichment Analysis
TEM
Transmission electron microscope
NHEJ
Non-homologous end joining
AST
Aspartate aminotransferase
LS-MS/MS
Liquid chromatography-tandem mass spectrometry
NLS
Nuclear localization sequences
TERT
Telomerase reverse transcriptase
Introduction
Liver cancer was the fourth leading cause of cancer-related death worldwide in 2018 [
1
]. Hepatocellular carcinoma (HCC) constitutes 75–85% of all liver cancers and is closely associated with chronic liver injury, which leads to repetitive cell death and regeneration, as well as chronic liver inflammation and fibrosis, which causes DNA damage in hepatocytes. In response to DNA damage, the hepatocytes activate the DNA damage response (DDR) signal to repair DNA damage [
2
]. Disruption of the damage repair pathways may cause DNA mutations and transformation of normal cells into tumor cells [
2
], leading to genomic instability, and eventually, hepatocarcinogenesis.
Due to its close anatomical connection to the intestine via the portal vein, the liver is the first organ exposed to the gut microbiota and their metabolites, which contain pathogen-associated molecular patterns (PAMPs). There is increasing evidence showing that dysbiosis in the gut-liver axis may play an important role in hepatocarcinogenesis [
3
–
5
]. For instance, in HCC patients, and diethylnitrosamine (DEN)-induced HCC models, alteration of the gut microbiota, increases in intestinal permeability and translocation of bacterial metabolites from the gut to the liver have been reported [
3
–
5
]. Consequently, the gut-derived PAMPs may trigger persistent inflammation and hepatocellular injury in the liver, promoting HCC development. Furthermore, bacteria clearance using antibiotics has been shown to reduce HCC development in the DEN/CCl
4
-induced HCC model [
4
], suggesting that gut-derived PAMPs may participate in hepatocarcinogenesis. However, the mediators whereby the gut microbiota and their metabolites modulate liver tumorigenesis are still not well characterized.
We and others have previously shown that nucleotide-binding oligomerization domain 2 (NOD2), a member of pattern recognition receptors (PRRs), propagates the inflammatory response via RIP2 signaling in the circulatory system during bacterial invasion [
6
,
7
]. Once gut-derived PAMPs translocate to the liver via circulation, the liver senses them mainly through the PRRs expressed on the hepatocytes [
8
]. NOD2 is a well-characterized intracellular PRR of the NOD-like receptor (NLR) family, consisting of a C-terminal leucine-rich repeat (LRR), a central nucleotide-binding (NATCH) domain and two N-terminal caspase activation and recruitment (CARD) domains [
9
]. Unlike Toll-like receptor 4 (TLR4), which recognizes the LPS found mainly in gram (−) bacteria [
10
], NOD2 senses muramyl dipeptide (MDP), which is present in both gram (−) and gram (+) bacteria, making it a broader sensor of bacterial invasion compared to other PRRs [
11
]. Therefore, certain genetic variants of
Nod2
gene are associated with an increased susceptibility to digestive disease such as Crohn's disease [
12
,
13
]. NOD2 has also been implicated in the liver inflammatory diseases, as evidenced by its role in the promotion of experimental cholestatic liver fibrosis and hepatitis through inflammatory cytokines production [
14
–
16
]. However, the role of hepatic NOD2 in HCC remains elusive.
In this study, we further reported that NOD2 is an important hepatic sensor of gut microbial metabolites that promotes hepatocarcinogenesis. We demonstrate that NOD2 promotes hepatocarcinogenesis through two different mechanisms, including a previously unrecognized role, whereby NOD2 initiates a nuclear autophagy pathway, leading to increased DNA damage and genomic instability.
Methods
Results
Discussion
Conclusion
Here we provide evidence showing that NOD2, a general sensor of gram (+) and gram (−) bacteria, acts as a hepatic mediator linking the gut-derived bacterial PAMPs with chronic inflammation and the genomic instability in hepatocarcinogenesis. Clinically, NOD2 was overexpressed in HCC samples and closely correlated with poor prognosis of HCC patients. In our animal model, hepatic NOD2 was activated in the process of DEN/CCl
4
-induced HCC, while NOD2 deletion attenuated the tumorigenesis of DEN/CCl
4
-induced HCC. Mechanically, in a RIP2-dependent manner, NOD2 activation triggered a pro-inflammatory response through the activation of NF-κB, JAK2/STAT3 and MAPK pathways. Notably, we show that activated NOD2 acts as a previously unknown initiator of the nuclear autophagy pathway in a novel RIP2-independent manner, promoting the degradation of the nuclear component lamin A/C. A decrease in lamin A/C impairs the ability of hepatocytes to repair damaged DNA and, as a result, leads to increased genomic instability (summarized in Fig.
7
h). Targeting hepatic NOD2 might represent a promising therapeutic strategy for HCC.
Limitations of study
Our study still has limitation that the mechanism for a higher expression of NOD2 in HCC is still unclear. Previous studies have demonstrated that NOD2 promotor contains two NF-κB binding sites that enable the transcriptional activation of NOD2, following stimulation with TNF-α, which resulted in increased NOD2 mRNA and protein level [
44
–
46
]. Moreover, this up-regulation is augmented by IFN-γ [
44
]. We estimated that up-regulation of NOD2 expression might be part of a positive regulatory loop induced by inflammatory cytokines or bacterial components, which needs the further investigation.
Supplementary Information
Acknowledgements
We thank all members of our team for critical input and suggestions.
Ethics approval and consent to participate
The clinical project was performed in accordance with the Declaration of Helsinki and approved by the Ethics Committee of the Zhongshan Hospital, Fudan University. Informed consents were obtained from all patients. Animal experiments preformed were approved by the Research Ethics Committee of Zhongshan Hospital and conducted according to the institutional guidelines.
Consent for publication
Not applicable for this article.
Competing interests
The authors declare no conflict of interest.
Open Access
This article is licensed under a Creative Commons Attribution 4.0 International License, which permits use, sharing, adaptation, distribution and reproduction in any medium or format, as long as you give appropriate credit to the original author(s) and the source, provide a link to the Creative Commons licence, and indicate if changes were made. The images or other third party material in this article are included in the article's Creative Commons licence, unless indicated otherwise in a credit line to the material. If material is not included in the article's Creative Commons licence and your intended use is not permitted by statutory regulation or exceeds the permitted use, you will need to obtain permission directly from the copyright holder. To view a copy of this licence, visit
http://​creativecommons.​org/​licenses/​by/​4.​0/​
. The Creative Commons Public Domain Dedication waiver (
http://​creativecommons.​org/​publicdomain/​zero/​1.​0/​
) applies to the data made available in this article, unless otherwise stated in a credit line to the data.
Publisher's Note
Springer Nature remains neutral with regard to jurisdictional claims in published maps and institutional affiliations.