01.12.2019 | Case report | Ausgabe 1/2019 Open Access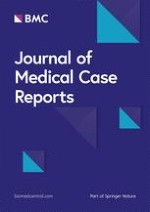 Hepatitis B virus reactivation sustained by a hepatitis B virus surface antigen immune-escape mutant isolate in a patient who was hepatitis B core antibody positive during treatment with sofosbuvir and velpatasvir for hepatitis C virus infection: a case report
Zeitschrift:
Autoren:

Luca Foroghi Biland, Ludovica Ferrari, Vincenzo Malagnino, Elisabetta Teti, Carlotta Cerva, Adele Gentile, Marianna Aragri, Romina Salpini, Valentina Svicher, Massimo Andreoni, Loredana Sarmati
Wichtige Hinweise
Publisher's Note
Springer Nature remains neutral with regard to jurisdictional claims in published maps and institutional affiliations.
Abstract
Background
Although several cases of hepatitis B virus reactivation have been described in patients with a history of hepatitis B virus infection while undergoing treatment for hepatitis C virus infection with direct acting antivirals, the question of whether hepatitis B virus surface antigen immune-escape mutations might play a role has not been addressed so far.
Case presentation
We report a case of hepatitis B virus reactivation in a Caucasian patient infected with hepatitis C virus during treatment with sofosbuvir and velpatasvir. A 50-year-old man with a genotype 1a hepatitis C virus infection was considered for therapy. His serological profile was hepatitis B virus surface antigen-negative, hepatitis B virus core antibody-positive, hepatitis B virus surface antibody-negative, and anti-hepatitis D virus-positive. The detection of hepatitis B virus deoxyribonucleic acid (DNA) indicated active viral replication during the direct acting antiviral treatment that spontaneously returned to undetectable levels after treatment completion. Starting from week 12 after the end of treatment, hepatitis B virus surface antibody titers and hepatitis B virus e antibody developed. Sequencing analysis revealed the hepatitis B virus genotype D3 and the presence of two relevant immune-escape mutations (P120S and T126I) in the major hydrophilic region by analyzing the S region.
Conclusions
We speculate that the presence of the hepatitis B virus surface antigen mutations, endowed with the enhanced capability to elude the immune response, could play a role in hepatitis B virus reactivation. This observation confirms that occult hepatitis B infection should also be carefully monitored, through surveillance of the hepatitis B virus viral load before and during direct acting antiviral treatment of hepatitis C virus.