01.12.2017 | Review | Ausgabe 1/2017 Open Access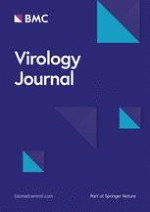 Hepatitis C Virus in mainland China with an emphasis on genotype and subtype distribution
Zeitschrift:
Autoren:

Yu Zhang, Li-Min Chen, Miao He
Abbreviations
ETVR
End of treatment virological response
LiPA
Line probe hybridization method
PCR-RDB
Polymerase chain reaction-reverse dot blot
PR
PEGylated interferon alpha and ribavirin
PTHC
Post-transfusion hepatitis
RFLP
Restriction fragment length polymorphism
Background
Hepatitis C virus (HCV) is a globally distributed hepatic virus with an estimated 130 to 150 million people (2 to 3% of the world's population) chronically infected world widely [
1
,
2
]. It has been reported that by 2025, HCV-related mortality will be tripled [
3
]. HCV infection constitutes over 70% of post-transfusion hepatitis (PTHC), and is one of the leading causes of chronic liver disease, which usually results in liver cirrhosis (LC), liver failure and hepatocellular carcinoma (HCC) within 20 to 30 years following infection [
4
–
6
]. HCV incidence in China was 0.06‰, however, in some area such as in Fujian, reached as high as 6.01% in 2010 [
7
]. HCV infection has become the second major type of viral liver disease only next to Hepatitis B virus (HBV) infection in China [
8
], and exhibits great threat to public health.
Hepatitis C virus (HCV) was classified into genus Hepacivirus of family Flaviviridae [
6
]. Like other positive-stranded RNA viruses, the HCV genome encodes a single polyprotein with approximately 3000-amino-acids in length with the following order: 5'-C-E1-E2-p7-NS2-NS3-NS4A-NS4B-NS5A-NS5B-3' [
9
], and flanks with 5' and 3' untranslated regions, which consists of 341 and 27 bases, respectively [
10
]. HCV genome has high genetic heterogeneity with as much as 30% of sequence divergence [
11
]. Based on the sequence divergence, HCV was classified into seven different genotypes (GTs) and more than 90 subtypes [
6
,
12
]. The greatest genetic diversity was observed within HCV-6, with 24 subtypes (6a-6xa) being classified [
13
,
14
].
In China, HCV GT distribution has been associated with various geographical and demographic characteristics. Due to the increasing mobility of the population and different transmission routs, HCV GTs distribution changed gradually and co-infection with multiple subtypes as well as genetic recombinant appeared frequently in some regions. Most recently, three new subtypes have been characterized in China: HCV-1b-2a, 1b-2 k and 6d-6 k [
15
]. Since there is a paucity of data from large-sample study of HCV GT distribution in China, this review aims to describe the most comprehensive distribution of HCV GTs in mainland China in order to facilitate personalized treatment and to further understand the virology of HCV for vaccine and antiviral drug development in China.
Methods
Literature search
The literature search on HCV GT detection among clinical cases in mainland China was conducted using China National Knowledge Infrastructure (CNKI), PubMed and Wanfang Data (a Chinese professional academic database developed by Wanfang data limited-liability Company) with the key words "HCV" or "Hepatitis C virus"; "genotype" or "subtype", "sequencing" or sequence analysis"; "transfusion transmitted disease" and "China" or "Mainland China". No language restrictions were applied.
Literature selection and data extraction
The inclusion criteria included: 1) The study was conducted only in mainland China (Hong Kong, Taiwan and Macao were excluded); 2) Studies involving the HCV genotype and (or) subtype distribution; 3) The study object were hospitalized patients; 4) Studies with clear sample size.
The exclusion criteria were as follows: 1) studies without exact sample size, publication year and methods; 2) Overlapping or paradoxical studies: data from literature were repeat or inconsistent between the context; 3) The study objects were blood donors or intravenous drug user; 4) HCV GTs prevalence rate in patients with HIV/HCV co-infection; 5) Comments, reviews or conference abstracts. When investigating the trends of HCV GT spatio-temporal distributions, literatures without exact study year were not included.
Statistical analysis
Pooled results for the prevalence rate of HCV GTs and corresponding 95% CIs by metan command in Stata 12.0 were used to assess the HCV GTs distribution status among hospitalized patients in China. The % of GT in each study counted by the weighted method that the contribution of each study was determined by number of patients in the individual studies. The time trend of HCV prevalence rate, and the significant difference between HCV GT and HCV viral load and severity of hepatitis was performed using SPSS Statistics 17.0 based on Chi-squared or Fisher's exact test of crosstabs, and
P
value <0.05 represents statistical significance.
Results
Conclusion
To sum up, HCV GTs and subtypes showed significant geographical distribution divergence in China. Along with the increasing mobility of the population, the HCV genotype distribution changes gradually. HCV GT distribution and co-infection data from our comprehensive statistical analysis in Chinese patient population provide important diagnostic and prognostic information for more effective treatment of HCV infections. In addition, more attention should be paid to intravenous drug abusing, which may have become a new risk factor for HCV transmission in China. Above all, it is urgently need to launch large-scale multi-center studies to discover the associations between HCV genotypes/subtypes and some clinical and viral factors described above. All those information are important to implement personalized and precision medicine in China for HCV infections and the relative hepatitis.
Acknowledgements
Not applicable.
Funding
This study was supported by Natural Science Foundation of China (81572089).
Availability of data and materials
Please contact author for data requests.
Authors' contributions
YZ carried out the study concept, data collection, analysis and drafting the manuscript. MH has full access to all of the data in the study and takes responsibility for the integrity of the data and the accuracy of the data analysis. LM C gave an improved suggestion about the whole article. All authors read and approved the final manuscript.
Competing interests
The authors declare that they have no competing interests.
Consent for publication
Not applicable.
Ethics approval and consent to participate
Not applicable.
Open Access
This article is distributed under the terms of the Creative Commons Attribution 4.0 International License (
http://​creativecommons.​org/​licenses/​by/​4.​0/​
), which permits unrestricted use, distribution, and reproduction in any medium, provided you give appropriate credit to the original author(s) and the source, provide a link to the Creative Commons license, and indicate if changes were made. The Creative Commons Public Domain Dedication waiver (
http://​creativecommons.​org/​publicdomain/​zero/​1.​0/​
) applies to the data made available in this article, unless otherwise stated.