01.12.2017 | Review | Ausgabe 1/2017 Open Access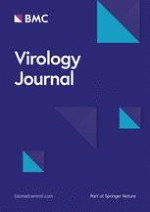 Hepatitis delta: virological and clinical aspects
Zeitschrift:
Autoren:

Luan Felipo Botelho-Souza, Mariana Pinheiro Alves Vasconcelos, Alcione de Oliveira dos Santos, Juan Miguel Villalobos Salcedo, Deusilene Souza Vieira
Abbreviations
anti-HDAg
Antibody produced in our body to fight the antigen (HDAg)
HBsAg (anti-HBs)
Antibody produced in our body to fight the antigen (HBsAg)
HBsAg
Hepatitis B virus surface antigen
HDAg-L
Protein large antigen Delta
HDAg-S
Protein short antigen Delta
HIV
Human immunodeficiency virus
HSPG
Heparan sulfate proteoglycans
ICTV
International Committee on Taxonomy of Viruses
NLS
Nuclear localization signal
NLS
Nuclear localization site
NTCP
Na+ taurocholate co-transporting polypeptide
PCR
Reaction chain polymerase
RFLP
Restriction fragment length polymorphism
ssRNA
Single-stranded circular RNA
Background
Classification
HDV was recognized by the International Committee on Taxonomy of Viruses (ICTV), as a new virus species from vertebrates, the only representative of the
Deltaviridae
family,
Deltavirus
genus [
17
]. Although HDV is quite similar structurally and in its mode of replication to phytopathogens, viroids and virusoids, it is sufficiently different to be assigned to a separate genus. HDV is commonly classified as a satellite virus of HBV, as it is based on the biological principle that HDV is incapable of infection in the absence of HBV [
14
,
18
].
Viral structure
HDV is formed, on the outside, by a spherical lipoprotein envelope containing HBsAg [
19
]. On the inside of the virion there is a ribonucleoprotein composed of the viral genome complexed to HDAg (Fig.
1
) [
8
,
18
,
20
].
×
The viral genome consists of one single-stranded circular RNA (ssRNA) of about 1.7 kb and negative polarity. Due to the large amount of GC, nearly 74% of the nucleotides complement themselves intramolecularly, may fold into a secondary structure similar to a rod and are found complexed to HDAg [
14
,
18
,
21
,
22
].
Delta antigen
The Delta (HDAg) antigen is the only protein encoded by HDV, a phosphoprotein and can be found in two protein forms: a short one named HDAg-S and a large one called HDAg-L, with molecular weights of 24 kilodaltons (195 amino acids) and 27 kilodaltons (214 amino acids), respectively [
23
]. Studies have shown that HDAg-S promotes RNA replication while HDAg-L promotes HDV RNA enveloping to assemble the virion [
21
,
24
–
27
].
During the replication cycle, the antigenome undergoes a post-transcriptional modification where the gene encoding HDAg-S is modified by an enzyme called Adenosine Deaminase (ADAR1), a host protein, substituting an adenine for an inosine, indirectly exchanging the UAG-stop codon for a UGG-tryptophan, known as the Amber/W site, which will give rise to the gene encoding HDAg-L with an additional 19 amino acids (Fig.
2
) [
28
–
31
].
×
The difference between the two forms of HDAg is in the 19 additional amino acids in the C-terminal region of HDAg-L. Both HDAg isoforms have multiple functional domains in common, including the RNA-binding domain (RBD), a nuclear localization signal (NLS) a coiled coil domain (CCD) and a C-terminal portion of the sequence rich in proline and glycine. The 19 additional amino acids of HDAg-L are a virus assembly signal (VAS), which is a highly variable and specific sequence for each genotype [
32
]. Central to virus assembly, it serves as a binding site interacting with HBsAg/membrane (Fig.
3
) [
14
].
×
HDAg undergoes several other post-transcriptional modifications such as phosphorylation [
33
,
34
], acetylation [
35
] and methylation [
36
] and in the case of HDAg-L, isoprenylation [
37
]. The methylation of Arg13 [
36
,
38
] acetylation of Lys72 [
39
], and phosphorylation of Ser177 [
40
] and Ser123 [
41
] were related to the subcellular localization of HDAg and RNA replication. Most of these changes are important for the functions of HDAg-S in HDV RNA replication which acts by directly stimulating the elongation of transcription through the substitution of the transcription repressor elongation factor linked to RNA polymerase II [
42
,
43
].
HDV RNA
Replication of the genome is completely directed by RNA, i.e., all the synthesis of new RNA has as its template HDV RNA itself, with no intermediate DNA template in the replication. In hepatocytes, HDV synthesizes complementary RNA, called antigenome, from its genome (Fig.
4
) [
32
].
×
Viral replication
HDV uses a replication pathway called double-rolling circle, which is very similar to the strategy used by viroids, virusoids, and viroid-like satellite RNAs [
48
]. In general, the main feature of this type of replication is the use of a circular RNA strand as a template, which is transcribed by an RNA-dependent RNA polymerase of the host or helper virus. It is noteworthy that HDV is the only human pathogen that uses the host enzyme [
49
–
51
].
However, in the case of HDV where the host cell is a hepatocyte and due to the inexistence of RNA-dependent RNA polymerase in eukaryotic cells, in this replication the virus is deceptive and uses the hepatocyte's own RNA polymerase. Subsequently, the new RNA strands suffer ribozyme-catalyzed cleavage and, finally, are connected by host cell enzymes (Fig.
5
) [
52
].
×
In recent decades several studies have contributed to understanding HBV replication [
53
,
54
] and suggest that the same mechanisms are involved in the initial process of hepatocyte infection. Initially, the surface proteins derived from the HBV envelope, would bind to heparan sulfate proteoglycans (HSPG). This connection, despite having low affinity [
55
], is important to the infectious process, since it helps in adhesion of the virion to its cellular receptor, the Na
+
taurocholate co-transporting polypeptide (NTCP) [
56
]. Only after this virion [
57
–
59
] binding step with NTCP, high affinity binding occurs which will start the viral particle entrance process by endocytosis-mediated internalization [
54
,
60
].
Upon entry into the cell, the HDV ribonucleoprotein is released into the cytoplasm and translocated by HDAg to the cell nucleus via the nuclear localization site (NLS); the ribonucleoprotein is imported by cellular importins [
57
–
59
].
In the nucleus, specifically in the nucleoplasm, the genomic RNA is transcribed by RNA polymerase II in unmodified mRNA that, in turn, migrates to the cytoplasm where it is translated into HDAg-S (required for replication of the HDV RNA) [
13
,
15
,
55
,
61
]. In the nucleus, more specifically in the nucleosome, the genomic RNA is transcribed by RNA polymerase I [
62
] in a complementary RNA template, called antigenomic RNA. In the nucleoplasm, antigenomic RNA is transcribed by RNA polymerase II into new genomic RNA [
61
].
Later a fraction of antigenomic RNA undergoes editing by ADAR1 to serve as a template for edited genomic RNA; hence, the mRNA is edited and subsequently will give rise to HDAg-L [
28
]. Studies have shown that errors in the addition to polymerase and ADAR1-catalyzed amber/W editing, RNA recombination is also known can contribute to the genetic heterogeneity of HDV [
51
,
63
,
64
]. Some study show that recombination is not rare [
65
]. In the study realized by Sy et al. (2015), was show that can occur in the HDV genome for recombination located to the position nt908 in the genome which is downstream of the ribozyme activity (Rz) and polyadenylation signal sequence [
66
]. This recombination can contribuit for variability the genotypes HDV.
The two HDAg isoforms are sent on to the nucleus where they will be associated with the new unedited genomic RNA, forming a new ribonucleoprotein, which is exported to the cytoplasm [
58
]. Thus, it was observed clearly demonstrated that HDV RNA can replicate in hepatocytes and form HDV RNPs without the assistance of HBV [
67
]. However, HBV is indispensable for a productive HDV infection, considering that, in the assembly of the virion, HDAg-L will interact with HBsAg in the endoplasmic reticulum for viral involvement, thus producing an infectious viral particle, where, after there is the release of new viral particles through the Golgi complex, will be able to infect other cells [
58
,
68
].
Genotypes and epidemiology
Clinical aspects
Due to the need for association with HBV, HDV can only be transmitted in the presence of a concomitant infection with HBV in one of two ways (super-infection or co-infection), depending on the previous status of the individual for HbsAg (Fig.
6
) [
95
].
×
Co-infection is the simultaneous acute infection of HBV and HDV in a susceptible individual; this infection begins only after HBV has infected hepatocytes, and is similar to acute hepatitis B [
96
]. Because HBV is essential for HDV, the rate of progression to chronicity is similar to acute hepatitis B, i.e. between 2 and 5% [
97
,
98
]. The incubation period of hepatitis D is dependent on HBV inoculum titers which determine the incubation time of hepatitis B [
16
]. Acute hepatitis may present itself as monophasic (one phase) and biphasic (two different phases), the first phase being dependent on HBV titers and the second on HDV titers [
95
]. In 95% of cases, spontaneous healing is seen, making it an important cause of severe or fulminant hepatitis [
99
].
Super-infection is an HDV infection in an individual chronically infected with HBV. It can cause fulminant hepatitis and chronicity rates are above 80%, which is related to an increased risk of early development of cirrhosis and hepatocellular carcinoma [
1
,
100
,
101
] It has a varied clinical appearance, although it generally causes a more severe acute hepatitis and has a relatively short period of incubation. In asymptomatic HBsAg patients it can lead to acute hepatitis, while in patients with chronic active hepatitis B, it can lead to exacerbation of symptoms, with liver decompensation. Patients who have a super-infection progress to chronic hepatitis in approximately 90% of cases [
95
].
HDV infection, whether in the form of a co-infection or a super-infection, is a significant cause of fulminant viral hepatitis, which is caused by HDV more often than by other forms of viral hepatitis [
95
]. A study conducted in Samara, Russia, showed that of the 27 diagnoses of fulminant viral hepatitis, 13 were infected with HDV, and of these 11 were males and 2 were females [
102
]. Some studies in different countries of South America show that acute hepatitis caused by an HBV and HDV co-infection or super-infection is the major cause of severe acute hepatitis in the Amazon region [
84
,
103
].
According to a prospective analysis of 33 patients with chronic HDV admitted to a Spanish hospital in the period from 2006 to 2007, viral replication of HBV and HDV was quite variable during the study. In 54.5% HDV replication predominated, in 30.3% HBV predominated and in 15.2% HBV and HDV maintained similar levels. These data suggest that there is a suppression of HBV by HDV, but with important replication fluctuation of the two viruses [
104
]. The persistence of HBV replication, even at minimum levels, is associated with worse hepatocellular damage [
105
]. A third form has been described in patients after liver transplantation: latent infection [
101
]. Characterized by the presence of anti-HDV in the liver, hepatocyte nuclei in the absence of HBsAg and HDV RNA in the blood, is associated with low hepatocellular damage.
The chronic form of hepatitis D is the most severe and rapidly progressive of all chronic viral hepatitides. It leads to cirrhosis in approximately 70% within 5 to 10 years, usually involving patients of a young age. One to 2 years after the episode of acute hepatitis D, 15% develop cirrhosis. The risk of developing cirrhosis is 3 times higher in an HDV infection than in an HBV mono-infection [
106
]. A study in the Amazon region of Brazil showed that over 50% of treated patients treated with chronic hepatitis D who underwent a biopsy had moderate to intense fibrosis [
91
].
Fulminant hepatitis D has a dramatic evolution, with very poor prognosis. The clinical course occurs varying from 4 to 30 days after the onset of acute hepatitis D symptoms [
107
]. Transaminase levels may be high, but with massive liver necrosis, these levels tend to decrease rapidly. The same occurs with HDV replication levels, since there are few viable hepatocytes. If there is no liver transplantation in the first 10 days, mortality reaches approximately 80% [
95
].
Diagnosis
The first step in the diagnosis of HDV is screening for antibodies against HDAg (anti-HDVIgM and IgG) in HBsAg positive individuals. In patients with the anti-HDV reagent, the next step is to screen for HDV RNA in the serum to determine whether the presence of the antibody against HDAg reflects a persistent active infection (HDV RNA positive) or only represents a decreasing serological scar (HDV RNA negative). In individuals with an HDV infection and liver disease (changes in Alanine aminotransferase (ALT), see Fig.
7
) it is crucial to distinguish the type of HDV/HBV infection, whether it be an acute co-infection or super-infection in patients with chronic HBsAg, since the prognosis and management of the two types of infection are different [
108
,
109
].
×
In individuals who have the reagent for HBsAg and live in areas endemic for hepatitis Delta (such as the western Amazon) it is recommended to determine the phase of HBV infection (acute or chronic) through screening for total anti-HBc and IgM. Acute HBV infection is characterized by the presence of anti-HBc IgM, and when accompanied by total anti-HDV and/or IgM reagents, it corresponds to an HDV co-infection. Chronic HBV infection is characterized by the presence of anti-HBc IgG (total anti-HBc reagent with non-reactive anti-HBc IgM), and when accompanied by total anti-HDV and/or IgM reagents it corresponds to an HDV super-infection (Fig.
7
) [
110
,
111
].
Both in an HDV co-infection and an HDV super-infection, screening for HDV RNA using molecular techniques such as polymerase chain reaction (PCR) is necessary, as the goal is to quantify the circulating virus in the blood (real time PCR) and determine the genotype (conventional PCR, restriction fragment length polymorphism - RFLP or sequencing)
76,
[
112
]
,119
. In the case that HDV RNA is negative it is recommended to repeat PCR and/or if necessary, the use of other diagnostic methods such as immunohistology for a liver biopsy and biochemical methods like verification of ALT. It is also important to screen for other viral infections such as the hepatitis C virus (HCV) by screening for anti-HCV and/or HCV RNA [
113
].
Liver biopsy is an important tool for the elucidation of the diagnosis of more than 20% of patients with unknown causes of cirrhosis [
114
]. Histologically acute hepatitis D is characterized by necrosis and hepatocellular inflammation, with lymphocytes and Kupffer cells infiltrating the parenchyma and portal region. This described pattern is not specific to hepatitis D, but despite being common to all forms of viral hepatitis, in hepatitis D it generally tends to be more intense [
16
]. Injury to the hepatocyte is typically focal, except in severe cases where confluent necrosis is seen [
115
]. In chronic hepatitis D, the histopathology consists of hepatocellular necrosis and inflammation in the parenchyma and portal region, associated with varying degrees of liver fibrosis [
116
]. Periportal necrosis is most commonly found in the other forms of viral hepatitis [
95
]. In patients with HDV, the definitive diagnosis by liver biopsy is done by identifying HDAg [
114
]. The amount of HDAg decreases with the progression of fibrosis, being almost undetectable in the final stage of the disease [
16
].
Treatment
Hepatocellular carcinoma
The increased frequency of cirrhosis associated with increased induction of liver inflammation in chronic carriers of HDV represent indirect risk factors for HCC [
138
]. However, a further increase in oncogenicity due to HDV infection itself has not been proven [
139
,
140
].
Some studies suggest that an HBV/HDV co-infection increases the risk of HCC [
140
], showing a 3-fold increase in the risk of HCC and 2 times the mortality compared to patients with an HBV mono-infection [
106
,
141
]. However, a retrospective analysis of 962 patients with HBV, 82 of whom were co-infected with HDV, showed similar rates of HCC in both groups [
142
]. Thus, this relationship is still controversial in the literature and the role of HDV in the induction and development of HCC should be further studied.
Prognosis
An Italian study conducted in Milan analyzed 299 patients with chronic hepatitis D admitted between 1978 and 2006; the probability of survival 20 years after the diagnosis of chronic HDV infection was 86%. The persistent replication of HDV was the only predictive factor associated with an increased risk of mortality [
98
]. However, quantitative values of HDV RNA do not seem to be correlated with the degree of liver disease in patients infected with HDV [
143
].
Farci et al., in a longer follow-up, on average 13 years, of patients previously treated with IFN alpha 2a 9MU (
n
= 14), 3MU (n = 14) and the control group (n = 14) showed that, although no patients had negated the viral load, survival was significantly higher in those who used high IFN doses, with no significant difference between those who used low doses and the controls. A significant improvement in necroinflammatory lesions was also observed in the liver biopsy of patients treated with high doses. In this study, there is an estimated survival in 12 years after treatment, without the need for transplantation, of 86% among those who received 9MU, 39% with 3MU and 31% in the control group [
135
].
A recent cohort study shows that anti-HDV IgM may persist in patients with chronic hepatitis from HDV or reappear in who have relapsed after treatment. It may be associated with increased levels of ALT and bilirubin and decreased levels of albumin, as well as histological activity [
144
].
Conclusion
This review of the clinical and virological aspects of hepatitis D demonstrates strategies for the diagnosis and treatment of the disease. Unfortunately, the lack of an effective anti-HDV drug directs therapy for pegylated interferon, but only a small percentage maintains the virological response after 1 year of treatment. Therefore, therapeutic success may be related to decreased levels of HDV and HBsAg and normalization of ALT, however, even without its undetectability, it is associated with reduced events related to liver disease when treated with pegylated interferon.
Acknowledgements
FAPERO and FIOCRUZ Rondônia for supporting the submission decision of the article.
Availability of data and materials
All data generated or analysed during this study are included in this published article.
Search strategy and selection criteria
The references for this review were identified by searching PubMed for articles published from January 1977 to June 2016, the use of the terms "Virus Hepatitis Delta", "delta antigen" and "HDV". Articles resulting from these surveys and relevant references cited in these articles were reviewed. Articles published in English and Portuguese were included.
Ethics approval and consent to participate
Not applicable in this section.
Consent for publication
Not applicable in this section.
Competing interests
The authors declare that they have no competing interests.
Publisher's Note
Springer Nature remains neutral with regard to jurisdictional claims in published maps and institutional affiliations.
Open Access
This article is distributed under the terms of the Creative Commons Attribution 4.0 International License (
http://​creativecommons.​org/​licenses/​by/​4.​0/​
), which permits unrestricted use, distribution, and reproduction in any medium, provided you give appropriate credit to the original author(s) and the source, provide a link to the Creative Commons license, and indicate if changes were made. The Creative Commons Public Domain Dedication waiver (
http://​creativecommons.​org/​publicdomain/​zero/​1.​0/​
) applies to the data made available in this article, unless otherwise stated.