11.10.2015 | Original Article—Liver, Pancreas, and Biliary Tract | Ausgabe 6/2016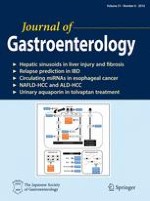 Hepatocellular carcinoma in Japanese patients with nonalcoholic fatty liver disease and alcoholic liver disease: multicenter survey
Zeitschrift:
Autoren:

Katsutoshi Tokushige, Hideyuki Hyogo, Tomoaki Nakajima, Masafumi Ono, Takumi Kawaguchi, Koichi Honda, Yuichiro Eguchi, Yuichi Nozaki, Miwa Kawanaka, Saiyu Tanaka, Kento Imajo, Yoshio Sumida, Yoshihiro Kamada, Hideki Fujii, Yasuaki Suzuki, Tomomi Kogiso, Yoshiyasu Karino, Kensuke Munekage, Ryoko Kuromatsu, Satoshi Oeda, Mikio Yanase, Kohjiro Mori, Yuji Ogawa, Yuya Seko, Tetsuo Takehara, Yoshito Itoh, Atsushi Nakajima, Kazuyuki Kanemasa, Ken Nishino, Naohiko Masaki, Hirokazu Takahashi, Masataka Seike, Takuji Torimura, Toshiji Saibara, Joji Toyota, Kazuaki Chayama, Etsuko Hashimoto
Wichtige Hinweise
Electronic supplementary material
The online version of this article (doi:
10.​1007/​s00535-015-1129-1
) contains supplementary material, which is available to authorized users.
Abstract
Background
In Japan, the prevalence of hepatocellular carcinoma (HCC) associated with nonviral liver disease, especially with nonalcoholic fatty liver disease (NAFLD-HCC) and alcoholic liver disease (ALD-HCC), has been increasing. Clarification of the clinical features of NAFLD-HCC and ALD-HCC is needed. We performed a large retrospective multicenter survey to clarify the clinical course of these two types of HCC.
Methods
Clinical characteristics, survival, and recurrence were examined in 532 patients with ALD-HCC and 209 patients with NAFLD-HCC who were diagnosed between January 2000 and December 2013.
Results
The ALD-HCC patients were predominantly male and were younger than the patients with NAFLD-HCC. Lifestyle-related diseases were significantly more common in the NAFLD-HCC group, but the prevalence of cirrhosis was significantly higher in the ALD-HCC group. The histological diagnosis of NAFLD-HCC showed a gender difference (F4; 72.7 % in the females vs. 37.6 % in the males). The characteristic features of HCC including histology, survival rate, and recurrence rate were quite similar in the NAFLD-HCC and ALD-HCC groups: 5-year survival rates 49.1 vs. 43.7 %; 5-year recurrence rates 69.6 vs. 65.4 %, respectively. However, the risk factors for recurrence differed between the two groups: des-gamma-carboxy prothrombin was a risk factor in NAFLD-HCC and α-fetoprotein was a risk factor in ALD-HCC.
Conclusions
Although the characteristic features underlying these two diseases are different, the two HCC groups showed a similar clinical course. The recurrence rates of the two HCC groups were relatively high. We found that critical tumor markers for recurrence differed between the two diseases.