05.06.2019 | Review | Ausgabe 2/2019 Open Access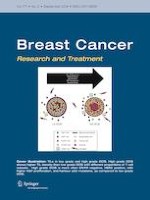 HER2+ breast cancer treatment and cardiotoxicity: monitoring and management
Zeitschrift:
Autoren:

Guy Jerusalem, Patrizio Lancellotti, Sung-Bae Kim
Wichtige Hinweise
Publisher's Note
Springer Nature remains neutral with regard to jurisdictional claims in published maps and institutional affiliations.
Abstract
Background
Breast cancer is a leading cause of death for women worldwide, with incidence increasing in lower-income countries. For patients with human epidermal growth factor receptor-2-positive (HER2+) breast cancer, widespread availability of several agents targeting the HER2 receptor has resulted in survival gains over the past decades. However, improved survival has resulted in an increased need for management and mitigation of adverse events associated with anticancer therapy. Cardiac adverse events such as decreased ejection fraction and heart failure have been of particular concern in patients with HER2+ breast cancer. Anti-HER2 agents and chemotherapies (specifically anthracyclines, which are frequently used to treat HER2+ disease) have been associated with cardiotoxicity. As increasing numbers of patients are living longer due to more effective therapy, a better understanding of both monitoring and management of cardiotoxicity is urgently needed.
Methods
A comprehensive review of the literature was conducted via PubMed in January 2018 for phase II and phase III trials of "trastuzumab", "lapatinib", "pertuzumab", "T-DM1", "neratinib", in "breast cancer". Literature was evaluated for content related to cardiac adverse events.
Findings
We describe the incidence of and proposed mechanisms for the cardiotoxicity of available HER2-targeted therapies. We summarize current and emerging practices in the management of cardiotoxicity and provide guidance for routine patient care in real-world practice using illustrative patient scenarios.
Conclusions
The future of cardiotoxicity management in patients with HER2+ breast cancer is discussed, with a focus on novel techniques to improve cardiac outcomes, including new imaging modalities, biomarkers, interventional therapies, and ongoing trials.