01.12.2013 | Review | Ausgabe 1/2013 Open Access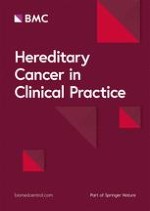 Hereditary breast cancer: ever more pieces to the polygenic puzzle
Zeitschrift:
Autoren:

Natalia Bogdanova, Sonja Helbig, Thilo Dörk
Wichtige Hinweise
Electronic supplementary material
The online version of this article (doi:
10.​1186/​1897-4287-11-12
) contains supplementary material, which is available to authorized users.
Competing interests
The authors declare that they have no competing interests.
Abbreviations
GWAS
Genome-wide association study
SNP
Single nucleotide polymorphism
TNBC
Triple-negative breast cancer.
Introduction
Hereditary breast cancer has been formally investigated since the middle of the 19th century [
1
–
3
]. About thirty years ago, epidemiological and genetic linkage studies of multiple-case families have guided the identification of
TP53
mutations as a cause of Li-Fraumeni Syndrome [
4
–
6
] and of
BRCA1
and
BRCA2
as first genes in which mutations strongly predispose to breast and ovarian cancer [
7
,
8
]. There are further rare syndromes which include the occurrence of breast cancer as part of the disease spectrum, and the underlying genes have been identified by positional cloning. Apart from Li-Fraumeni Syndrome, these include Cowden Disease (
PTEN
) [
9
,
10
], Peutz-Jeghers Syndrome (
LKB1/STK11
) [
11
,
12
], Lynch Syndrome (
MSH2,MLH1
) [
13
], Bloom's Syndrome (
BLM
) [
14
] and Ataxia-Telangiectasia (
ATM
) [
15
]. In addition, familial lobular breast cancer has been associated with germ-line mutations in
CDH1
, the gene for E-cadherin [
16
,
17
]. Although the above-mentioned syndromes are rare, they need to be kept in mind if a breast cancer patient presents with a more complex disorder or suspicious family history. For the recessive Ataxia- Telangiectasia and Bloom's Syndrome, the monoallelic occurrence of mutations predisposes heterozygous carriers outside of syndrome families to cancer, as will be described in more detail below.
While the identification of genes underlying these syndromes has been largely achieved through linkage analysis of large multiple-case pedigrees and positional cloning, these genes represent only a small subset of the estimated heritable fraction and further linkage studies have been unfruitful. However, hereditary breast cancer syndromes only mark the extreme end of a wide spectrum of genetically influenced breast carcinomas. During the past years evidence has been accumulated that breast cancer is a polygenic trait and also that several more susceptibility genes exist [
18
–
21
]. Their mutations have differential impact according to the minor allele frequencies and the magnitude of the allelic effect, which generally show an inversely proportional relationship (Figure
1
) [
22
]. In the following, we briefly summarize present knowledge about breast cancer susceptibility genes and discuss their implications for risk prediction and clinical practice.
×
Identification of breast cancer susceptibility alleles
Implications for risk prediction and therapy
Conclusions and outlook
Tremendous progress has been made during the past few years in deciphering the polygenic susceptibility to breast cancer. The results suggest that key pathways are targeted by different sources of genetic variation influencing the hereditary risk. To a large extent these findings fulfil the predictions made some forty years ago that "genes may either cause susceptibility of the mammary gland to hormonal action [or to a virus], or induce an easy transformation from a normal to a malignant cell" [
1
]. It can be anticipated that hundreds of additional loci are still to be detected that collectively form the basic layout for an individual's susceptibility to breast cancer. With many more genes being identified, a deeper understanding of breast cancer development and progression together with the ability of gene-based stratification should ultimately lead to improved prevention and an individually tailored therapy to the benefit of each patient.
Helpful websites
Search strategy and selection criteria
References for this Review were identified through searches of PubMed with the search terms "breast cancer", "mutation", and "genetic susceptibility" from 1990 until March, 2013. Articles were also identified through searches of the authors' own files. Only papers published in English were reviewed. The final reference list was generated on the basis of originality and relevance to the broad scope of this Review. We apologize to all authors whose work may have been undeliberately overlooked using this approach.
Competing interests
The authors declare that they have no competing interests.