21.05.2021 | Herztransplantation | Stand der Wissenschaft | Ausgabe 3/2021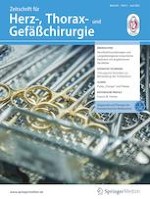 Hypotherme Perfusion von Spenderherzen mit einer mesenchymale Stammzellen enthaltenden Konservierungslösung
Zeitschrift:
Autoren:

Dr. Sevil Korkmaz-Icöz, Shiliang Li, Regina Hüttner, Mihály Ruppert, Tamás Radovits, Sivakkanan Loganathan, Alex Ali Sayour, Paige Brlecic, Felix Lasitschka, Matthias Karck, Gábor Szabó
Wichtige Hinweise
Zusatzmaterial online
×
Der Inhalt dieser Arbeit wurde 2020 mit dem Forschungspreis kardiovaskuläre Medizin der DGTHG ausgezeichnet. Der vorliegende Beitrag ist eine deutsche Übersetzung der englischsprachigen Originalarbeit der Autoren: Korkmaz-Icöz S, Li S, Hüttner R, Ruppert M, Radovits T, Loganathan S, Sayour AA, Brlecic P, Lasitschka F, Karck M, Szabó G (2019) Hypothermic perfusion of donor heart with a preservation solution supplemented by mesenchymal stem cells. J Heart Lung Transplant 38(3):315–326,
https://​doi.​org/​10.​1016/​j.​healun.​2018.​12.​003
. © 2018 International Society for Heart and Lung Transplantation. Alle Rechte vorbehalten. Publikation der deutschen Übersetzung mit freundlicher Genehmigung von Elsevier.
Zusammenfassung
Goldstandard bei terminaler Herzinsuffizienz bleibt die Herztransplantation. Der massive Mangel an Spenderherzen zwingt Transplantationszentren, ältere Spender und längere Ischämiezeiten zu akzeptieren. Die Behandlung mit mesenchymalen Stammzellen (MSC) oder deren konditioniertem Medium (CM) schützt das Herz vor Ischämie-Reperfusion-Schäden ("ischemia-reperfusion injury", IRI). Zu prüfen war, ob die Perfusion von Spenderherzen 15 Monate alter Ratten mit CM bei längerer Konservierung vor IRI schützt.
Es wurden Ratten-MSC isoliert und kultiviert. Das CM enthielt 28 Faktoren, die während Apoptose, Inflammation und oxidativem Stress eine Rolle spielen. Herzen von 15 Monate alten Ratten wurden explantiert und kontinuierlich für 5 h mit oxygenierter 4 °C kalter Kardioplegielösung perfundiert, die entweder mit normalem Zellkulturmedium (Kontrollgruppe) oder CM (CM-Gruppe) ergänzt war. Die Herzen wurden heterotop transplantiert und 1,5 h nach der Transplantation wurde die linksventrikuläre Transplantatfunktion in vivo und die myokardiale Expression von 120 Genen mithilfe von PCR-Arrays untersucht.
Die systolischen Kontraktions- und Relaxationsparameter waren bei 15 Monate alten Ratten im Vergleich zu jungen Ratten signifikant verringert. Nach der Transplantation waren die systolische und die diastolische Funktion in der CM- im Vergleich zur Kontrollgruppe signifikant verbessert. Die myokardiale Expression von 66 Genen war verändert. Gene des proinflammatorischen Zytokins und Interleukin waren herunterreguliert, während das Superoxiddismutase-2-Antioxidans-Gen in den CM-behandelten Transplantaten im Vergleich zur Kontrollgruppe hochreguliert wurde.
Die Perfusion von 15 Monate alten Rattenspenderherzen mit CM hat einen vor myokardialen IRI schützenden Effekt.