01.01.2019 | Original Article | Ausgabe 2/2019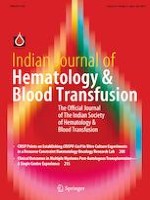 Heterogeneity of Mesenchymal Stromal Cells in Myelodysplastic Syndrome-with Multilineage Dysplasia (MDS-MLD)
Zeitschrift:
Autoren:

Salar Abbas, Sanjay Kumar, Vivi M. Srivastava, Marie Therese M., Sukesh C. Nair, Aby Abraham, Vikram Mathews, Biju George, Alok Srivastava
Wichtige Hinweise
Publisher's Note
Springer Nature remains neutral with regard to jurisdictional claims in published maps and institutional affiliations.
Abstract
Bone marrow niche constituents have been implicated in the genesis of clonal hematopoietic dysfunction in myelodysplastic syndromes (MDS), though the exact role of stroma in the pathogenesis of MDS remains to be defined. We have evaluated the characteristics of mesenchymal stromal cells in a cohort of patients with MDS with multilineage dysplasia (MDS-MLD). MSCs were cultured from bone marrow aspirates of MDS-MLD patients and controls with healthy bone marrow. Phenotypic characterization, cell cycle, and apoptosis were analyzed by flow cytometry. Targeted gene expression analysis was done using a reverse-transcription polymerase chain reaction (Q-PCR). MSCs derived from MDS patients (MDS-MSCs) showed normal morphology, phenotype, karyotype and differentiation potential towards adipogenic and osteogenic lineages. However, these MDS-MSCs showed significantly altered cell cycle status and displayed a shift towards increased apoptosis compared to control MSCs (C-MSCs). The gene expression profile of niche responsive/regulatory cytokines showed a trend towards lower expression
VEGF
,
SCF
, and
ANGPT
with no changes in expression of
CXCL12A
and
LIF
compared to C-MSCs. The expression levels of Notch signaling components like Notch ligands (
JAGGED
-
1
and
DELTA
-
LIKE
-
1
), receptors (
NOTCH1
,
NOTCH3
) and downstream gene (
HES1
) showed an aberrant expression pattern in MDS-MSCs compared to C-MSCs. Similarly, Q-PCR analysis of Wnt signaling inhibitory ligands (
DKK
-
1 and DKK
-
2
) in MDS-MSCs showed a three-fold increase in mRNA expression of
DKK1
and a two-fold increase in
DKK2
compared to C-MSCs. These data suggested that MDS-MSCs have an altered proliferation characteristic as well as a dysregulated cytokine secretion and signaling profile. These changes could contribute to the pathogenesis of MDS.