01.12.2010 | Brief Communication | Ausgabe 4/2010 Open Access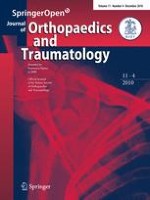 Heterotopic ossifications after arthroscopic management of femoroacetabular impingement: the role of NSAID prophylaxis
Zeitschrift:
Autoren:

Filippo Randelli, Luca Pierannunzii, Lorenzo Banci, Vincenza Ragone, Alberto Aliprandi, Robert Buly
Abstract
Background
Open hip surgery is known to be a risk for heterotopic ossification (HO), and nonsteroidal anti-inflammatory drugs (NSAIDs) have been widely recognized as an effective prevention. Hip arthroscopy is gaining popularity thanks to the possibility of treating femoroacetabular impingement (FAI) with a minimally invasive technique, however little is known about its rate of postoperative HO. The aim of the present study is to evaluate HO prevalence after hip arthroscopy for FAI and its relationship with NSAID prophylaxis.
Materials and methods
We retrospectively reviewed 300 FAI cases who have been managed with hip arthroscopy in two different hospitals from April 2006 to May 2009. All medical records and indications at discharge were analyzed, focusing on administration of NSAIDs, as well as follow-up roentgenograms with regard to presence of HO around the hip joint. The patients were divided into two groups: a treatment group of 285 hips which received NSAID prophylaxis and a control group of 15 hips which did not.
Results
Five hips presented HO, with overall prevalence of 1.6%. All five patients with HO belonged to the control group. No HO was observed in the treatment group. Thus, HO rate turned out to be significantly higher (
P
< 0.001) in patients who did not receive NSAIDs after surgery.
Conclusion
Arthroscopic treatment of FAI is not exempt from potential development of HO. NSAIDs after arthroscopic FAI treatment seem to be an effective prevention.