01.12.2010 | Original Article | Ausgabe 6/2010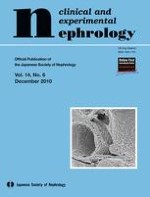 High-calorie diet with moderate protein restriction prevents cachexia and ameliorates oxidative stress, inflammation and proteinuria in experimental chronic kidney disease
Zeitschrift:
Autoren:

Hyun Ju Kim, Nosratola D. Vaziri, Keith Norris, Won Suk An, Yasmir Quiroz, Bernardo Rodriguez-Iturbe
Abstract
Background
In earlier studies we found that a high-fat, high-energy diet (HFED) attenuates proteinuria, azotemia and lipid accumulation in the remnant kidney of rats subjected to 5/6 nephrectomy. This study was conducted to explore the mechanism of the salutary effect of HFED in association with moderate protein restriction in this model.
Methods
The 5/6 nephrectomized male rats were randomized to receive regular rat chow (CRF group,
n
= 6) or HFED diet (CRF + HFED,
n
= 7) for 12 weeks. Sham-operated rats served as controls (
n
= 6).
Results
The CRF group exhibited azotemia, hypertension, proteinuria, diminished body weight, oxidative stress, glomerulosclerosis, tubulo-interstitial inflammation and upregulation of pro-oxidant [NAD(P)H oxidase], pro-inflammatory (NF-κB activation, increased MCP-1, lipoxygenase, ICAM-1, VCAM-1), pro-fibrotic (TGF-β, CTGF) and pro-apoptotic pathways (Bax, caspase-3) in the remnant kidney. Consumption of the HFED resulted in a 66% increment in lipid intake, 8% increment in carbohydrate intake and a 24% reduction in protein intake. The CRF + HFED group gained weight normally, had increments in leptin and adiponectin levels, and despite increments in plasma cholesterol and fatty acids, showed significant attenuation of oxidative stress, proteinuria and inflammation, and partial reversal of the remnant kidney upregulation of pro-oxidant, pro-inflammatory, pro-fibrotic and pro-apoptotic pathways.
Conclusion
Consumption of high-energy diet in association with mild protein restriction results in suppression of upregulated pathways that drive progression of renal injury in the remnant kidney model. These findings may have relevance in the management of chronic kidney disease in humans.