01.12.2012 | Original investigation | Ausgabe 1/2012 Open Access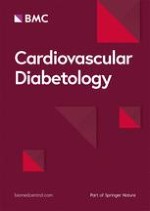 High-dose fasudil preserves postconditioning against myocardial infarction under hyperglycemia in rats: role of mitochondrial KATP channels
Zeitschrift:
Autoren:

Taiga Ichinomiya, Sungsam Cho, Ushio Higashijima, Shuhei Matsumoto, Takuji Maekawa, Koji Sumikawa
Wichtige Hinweise
Electronic supplementary material
The online version of this article (doi:
10.​1186/​1475-2840-11-28
) contains supplementary material, which is available to authorized users.
Competing interests
The authors declare that they have no competing interests.
Authors' contributions
TI performed experiments, contributed to discussion, and drafted the manuscript. SC participated in the design and coordination of the study, contributed to discussion and reviewed/edited the manuscript. UH and SM helped carry out in vivo experiments. TM participated in the design and coordination of the study. KS supervised research to discussion and reviewed/edited the manuscript. All authors read and approved the final manuscript.
Abstract
Background
The current study was carried out to determine whether fasudil hydrochloride (fasudil), a Rho-kinase inhibitor, has myocardial postconditioning (PostC) activity under hyperglycemia as well as normoglycemia, and if so, whether the effects could be mediated by mitochondrial ATP-sensitive potassium (m-KATP) channels.
Methods
Male Sprague-Dawley rats were anesthetized with sodium pentobarbital. After opening the chest, all rats underwent 30-min coronary artery occlusion followed by 2-h reperfusion. The rats received low-dose (0.15 mg/kg) or high-dose (0.5 mg/kg) fasudil or diazoxide, an m-KATP channel opener, at 10 mg/kg, just before reperfusion under normoglycemic or hyperglycemic conditions. In another group, rats received 5-hydroxydecanoic acid (5HD), an m-KATP channel blocker, at 10 mg/kg, before high-dose fasudil. Myocardial infarct size was expressed as a percentage of area at risk (AAR).
Results
Under normoglycemia, low-dose and high-dose fasudil and diazoxide reduced myocardial infarct size (23 ± 8%, 21 ± 9% and 21 ± 10% of AAR, respectively) compared with that in the control (42 ± 7%). Under hyperglycemia, low-dose fasudil (40 ± 11%) and diazoxide (44 ± 14%) could not exert this beneficial effect, but high-dose fasudil reduced myocardial infarct size in the same manner as under normoglycemia (21 ± 13%). 5HD prevented fasudil-induced reduction of myocardial infarct size (42 ± 13%).
Conclusion
Fasudil induces PostC against myocardial infarction via activation of m-KATP channels in the rat. Although hyperglycemia attenuates the PostC, high-dose fasudil can restore cardioprotection.