01.12.2016 | Research | Ausgabe 1/2016 Open Access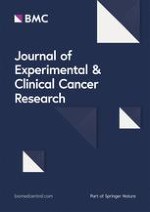 High expression of long non-coding RNA SBF2-AS1 promotes proliferation in non-small cell lung cancer
Zeitschrift:
Autoren:

Junjie Lv, Mantang Qiu, Wenjia Xia, Chao Liu, Youtao Xu, Jie Wang, Xuechun Leng, Su Huang, Rong Zhu, Ming Zhao, Fengqing Ji, Lin Xu, Keping Xu, Rong Yin
Wichtige Hinweise
Competing interests
The authors declared that they have no competing interests.
Authors' contributions
MTQ, LX, KPX, and RY conceived the study. MTQ and RY designed the study. MTQ, JW, and RY coordinated the study. JL, CL, WJX, YTX, JW, and XCL performed most experiments and the statistical analyses. SH, RZ, MZ, and FQJ obtained the clinical parameters. MTQ and RY drafted the manuscript. LX, RY, JW, and MTQ provided funds. All authors read and approved the final manuscript.
Abstract
Background
Recent evidence has proven that long noncoding RNAs (lncRNAs) play important roles in cancer biology, while few lncRNAs have been characterized in NSCLC. Here, we characterized a novel lncRNA, SBF2 antisense RNA 1 (SBF2-AS1), in non-small cell lung cancer (NSCLC).
Methods
Quantitative real-time PCR was used to quantify SBF2-AS1 expression in NSCLC tissues and cell lines. The correlation of SBF2-AS1 expression with clinicopathologic features was analyzed in a cohort NSCLC patient. Loss of function and gain of function studies were performed to determine the effects of SBF2-AS1 on proliferation and metastasis of NSCLC cells. RNA immunoprecipitation and chromosome immunoprecipitation assay was performed to confirm the interaction between SBF2-AS1 with protein and chromosome.
Results
We confirmed that SBF2-AS1 was significantly upregulated in NSCLC compared with corresponding non-tumor tissues, and a high expression level of SBF2-AS1 was correlated with lymph node metastasis and advanced TNM stage. Using siRNAs specifically targeting SBF2-AS1 and plasmid vector, we successfully silenced and overexpressed SBF2-AS1 in NSCCLC cell lines and investigated its biological function both in vitro and in vivo. After the silencing of SBF2-AS1, the metastasis of NSCLC cells was significantly inhibited, the silencing of SBF2-AS1 decreased the proliferation of NSCLC cells, and the cell cycle was arrested at the G1 phase; while overexpression promoted proliferation ability. Xenograft tumor models revealed that the silencing of SBF2-AS1 inhibited tumor growth in vivo. We speculated that SBF2-AS1 might negatively regulate P21. RNA immunoprecipitation discovered that SBF2-AS2 could bind with a core component of polycomb repressive complex2, SUZ12. Additionally chromatin immunoprecipitation assay demonstrated that, after silencing SBF2-AS1, the enrichment of SUZ12 and trimethylation of histone 3 lysine 27 decreased at the promoter region of P21.
Conclusions
We demonstrated that SBF2-AS1 is upregulated in NSCLC and promotes proliferation of NSCLC tumor cells. SBF2-AS1 may serve as a novel biomarker and potential therapeutic target for NSCLC patients.