01.12.2018 | Research | Ausgabe 1/2018 Open Access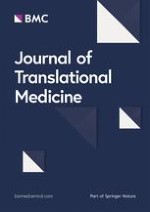 High expression of TMEM40 is associated with the malignant behavior and tumorigenesis in bladder cancer
Zeitschrift:
Autoren:

Zhen-Fei Zhang, Han-Rong Zhang, Qing-Yan Zhang, Shu-Yu Lai, Yu-Zhen Feng, Yi Zhou, Si-Rong Zheng, Rong Shi, Jue-Yu Zhou
Abstract
Background
Bladder cancer (BCa) is one of the most common cancers in the urinary system among the world. Previous studies suggested that TMEM40 expression level was significantly associated with clinicopathological parameters including histological grade, clinical stage and pT status of bladder cancer. However, the molecular mechanism of TMEM40 in BCa remains poorly understood.
Methods
Real-time quantitative RT-PCR (qRT-PCR) and western blot (WB) were used to examine the expression levels of TMEM40 in BCa tissues, paired non-cancer tissues and cell lines. A series of experiments, including CCK-8, wound healing, flow cytometry, transwell and EdU assays were performed to assess the effects of TMEM40 on cell proliferation, cell cycle and apoptosis, migration and invasion. In addition, tumor growth was evaluated in vivo using a xenogenous subcutaneously implant model. All statistical analyses were executed by using the SPSS 20.0 software. All experimental data from three independent experiments were analyzed by Student's
t
test and results were expressed as mean ± standard deviation.
Results
In this study, we identified the role of TMEM40 in the tumorigenesis of bladder cancer and found that it was upregulated in bladder cancer tissues and cell lines, compared with their normal counterparts. The results demonstrated that effective silence of TMEM40 expression suppressed cell proliferation, blocked G1-to-S cell cycle transition, and inhibited cell migration and invasion in human bladder 5637 and EJ cell lines. Consistently, in vivo data showed that TMEM40 silencing could dramatically decreased tumor growth. Further study revealed that TMEM40 knockdown resulted in accumulation of p53 and p21 protein and decrease of c-MYC and cyclin D1 protein.
Conclusion
These data suggest that TMEM40 represents a potential oncogene, which exert a crucial role in the proliferation and apoptosis via the p53 signaling pathway in BCa, thus probably serve as a novel candidate biomarker and a potential therapeutic target for patients with BCa.