01.02.2014 | 2013 SSAT Plenary Presentation | Ausgabe 2/2014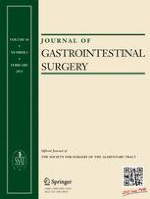 High-Fat Diet Enhances Villus Growth During the Adaptation Response to Massive Proximal Small Bowel Resection
Zeitschrift:
Autoren:

Pamela M. Choi, Raphael C. Sun, Jun Guo, Christopher R. Erwin, Brad W. Warner
Wichtige Hinweise
Discussant
Dr. Richard Hodin (Boston, Massachusetts): Dr. Choi, congratulations on a nice study and thank you for providing the manuscript for my review in advance of this meeting. The Warner lab has been leading the way in the field of gut adaptation for over two decades, and this study represents another piece of this important puzzle. I think it is particularly important that in this study you have addressed the issue of adaptation at a later time point, after the animals have already gone through the early adaptation phase. After all, in the clinical setting, we are generally presented with these patients well after their initial insult and recovery from their surgery, and the question is what can we do to make their lives better, perhaps even helping to make them TPN-independent?
This study clearly shows that dietary composition is going to be a key component of the gut adaptation response. There are a couple of questions that I have for you:
(1) Even the sham, HFD mice apparently had less body fat. This seems counter-intuitive. Obviously, we think of a high-fat diet as leading to more body fat, and there are certainly many experimental studies that have demonstrated a high-fat diet causing obesity, insulin resistance, fatty liver, etc. Can you explain this apparent discrepancy?
(2) There has been a lot of recent interest in GLP-2, suggesting that it may help patients become less dependent on TPN. Can you tell us whether you have given GLP-2 to your mice and what the impact is relative to dietary manipulations? For example, if you add GLP-2 to the HFD, will you get more adaptation?
Closing Discussant
Dr. Pamela Choi: Thank you, Dr. Hodin for your insightful questions.
In response to your first question, indeed this finding that even the sham-operated mice on HFD have less body fat is counter-intuitive. However, these mice did also experience a significant decrease in weight loss within the first 7 days after surgery although not as much as resected mice. This suggests that even sham mice may be experiencing some degree of catabolism. Under these circumstances, it is possible that fat may be metabolized in a way to stimulate protein production. Saturated long-chain fatty acids, which are present in high quantities in the HFD, are more calorically dense molecules than monounsaturated or polyunsaturated long-chain fatty acids. This leads to increase in ATP production which may stimulate protein production as part of the recovery phase from the acute stressor.
We did not give exogenous GLP-2 in our experiment to see if there is an additive effect. However, we were indeed interested in GLP-2 as a potential mechanism for high-fat diet-induced adaptation. Other studies have shown that GLP-2 levels are increased after resection and high-fat enteral feeding independently. Additionally, GLP-2, in addition to its intestinotrophic effects, has also been shown to stimulate CD36 expression. Unfortunately, we were unable to measure GLP-2 as we did not collect serum prior to harvest. However, the trophic effects of GLP-2 are carried out through IGF-1 and the IGF-1 receptor, and so repeating this experiment on IGF-1R-floxed mice may prove if GLP-2 is a critical mediator in HFD-induced enhanced adaptation after resection.
Abstract
Previous studies have shown that high-fat diet (HFD) enhances adaptation if provided immediately following small bowel resection (SBR). The purpose of this study was to determine if HFD could further enhance villus growth after resection-induced adaptation had already taken place. C57/Bl6 mice underwent a 50 % proximal SBR or sham operation and were then provided a standard rodent liquid diet (LD) ad lib. After a typical period of adaptation (7 days), SBR and sham-operated mice were randomized to receive either LD or HFD (42 % kcal fat) for an additional 7 days. Mice were then harvested, and small intestine was collected for analysis. Adaptation occurred in both SBR groups; however, the SBR/HFD had significantly increased villus height compared to SBR/LD. Reverse transcription–polymerase chain reaction of villus enterocytes showed a marked increase in CD36 expression in the SBR/HFD group compared with SBR/LD mice. While exposure to increased enteral fat alone did not affect villus morphology in sham-operated mice, HFD significantly increased villus growth in the setting of resection-induced adaptation, supporting the clinical utility of enteral fat in augmenting adaptation. Increased expression of CD36 suggests a possible mechanistic role in dietary fat metabolism and villus growth in the setting of short gut syndrome.