01.12.2012 | Original investigation | Ausgabe 1/2012 Open Access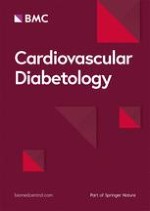 High glucose mediates endothelial-to-chondrocyte transition in human aortic endothelial cells
Zeitschrift:
Autoren:

Rining Tang, Min Gao, Min Wu, Hong Liu, Xiaoliang Zhang, Bicheng Liu
Wichtige Hinweise
Electronic supplementary material
The online version of this article (doi:
10.​1186/​1475-2840-11-113
) contains supplementary material, which is available to authorized users.
Competing interests
The authors declare that they have no competing interests.
Authors' contributions
TR: conception and design, data interpretation, manuscript writing and final approval of manuscript; WM: conception and design, data analysis, manuscript writing, final approval of manuscript; LH and GM: advice with protein assay and data interpretation; LB: conception and design, assembly of data and data interpretation, manuscript review, final approval of manuscript. All authors read and approved the final manuscript.
Abstract
Background
Vascular calcification is one of the common complications in diabetes mellitus. Many studies have shown that high glucose (HG) caused cardiovascular calcification, but its underlying mechanism is not fully understood. Recently, medial calcification has been most commonly described in the vessels of patients with diabetes. Chondrocytes were involved in the medial calcification. Recent studies have shown that the conversion into mesenchymal stem cells (MSCs) via the endothelial-to-mesenchymal transition (EndMT) could be triggered in chondrocytes. Our previous research has indicated that HG induced EndMT in human aortic endothelial cells (HAECs). Therefore, we addressed the question of whether HG-induced EndMT could be transitioned into MSCs and differentiated into chondrocytes.
Methods
HAECs were divided into three groups: a normal glucose (NG) group, HG group (30 mmol/L), and mannitol (5.5 mmol/L NG + 24.5 mmol/L) group. Pathological changes were investigated using fluorescence microscopy and electron microscopy. Immunofluorescence staining was performed to detect the co-expression of endothelial markers, such as CD31, and fibroblast markers, such as fibroblast-specific protein 1 (FSP-1). The expression of FSP-1 was detected by real time-PCR and western blots. Endothelial-derived MSCs were grown in MSC medium for one week. The expression of the MSCs markers STRO-1, CD44, CD10 and the chondrocyte marker SOX9 was detected by immunofluorescence staining and western blots. Chondrocyte expression was detected by alcian blue staining. Calcium deposits were analyzed by alizarin red staining.
Results
The incubation of HAECs exposed to HG resulted in a fibroblast-like phenotype. Double staining of the HAECs indicated a co-localization of CD31 and FSP-1. The expression of FSP-1 was significantly increased in the HG group, and the cells undergoing EndMT also expressed STRO-1, CD44 and SOX9 compared with the controls (
P
 < 0.05). Additionally, alcian blue staining in the HG group was positive compared to the NG group. Consistent with the evaluation of SOX9 expression, calcium deposits analyzed by alizarin red staining were also enhanced by the HG treatment. Specifically, we showed that HG-induced EndMT is accompanied by the activation of the canonical Snail pathway.
Conclusions
Our study demonstrated that HG could induce endothelial cells transdifferentiation into chondrocyte-like cells via the EndMT, which is mediated in part by the activation of the Snail signaling pathway.