28.01.2020 | Research article | Ausgabe 1/2020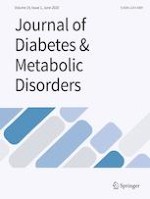 High intensity interval training improves diabetic cardiomyopathy via miR-1 dependent suppression of cardiomyocyte apoptosis in diabetic rats
Zeitschrift:
Autoren:

Maryam Delfan, Mahmoud Delphan, Mohammd Reza Kordi, Ali Asghar Ravasi, Majid Safa, Sattar Gorgani-Firuzjaee, Ahmad Fatemi, Fatemeh Bandarian, Ensieh Nasli-Esfahani
Wichtige Hinweise
Publisher's note
Springer Nature remains neutral with regard to jurisdictional claims in published maps and institutional affiliations.
Abstract
Purpose
Diabetes and its complications such as diabetic cardiomyopathy still account for significant morbidity and mortality. High-quality evidence was shown the importance of exercise in controlling diabetes complications, but the molecular mechanism on diabetic cardiomyopathy is not yet fully understood. This study aimed to compare and investigate the effect of high intensity interval training (HIIT) and continuous endurance training (CET) on the signaling pathway of diabetic cardiomyopathy.
Methods
Hence, 21 Wistar rats with an average weight of 260 ± 10 g, after induction of diabetes (STZ 50 mg/kg BW) were randomly divided into three groups (control, CET and HIIT;
n
 = 7). Training programs were conducted 5 days a week for 5 weeks. CET program was defined as running at 60% vVO
2
max for 30 min in each session and the HIIT program was defined as running at 85–90% vVO
2
max for 3 min followed by 1 min recovery (30–35% vVO
2
max), that was repeated four times in each session. The cardiac performance was analyzed via determination of end systolic and diastolic dimensions and the ejection fraction by echocardiography. To elucidate the responsible molecular mechanism of miR-1, IGF-1 and IGF-1R mRNA and apoptosis marker protein expression were investigated.
Results
Both training programs specifically HIIT, significantly reduced the blood glucose, enhanced heart performance, reduced miR-1 expression, induced IGF-1 and IGF-1R expression and reduced apoptotic protein expression.
Conclusion
We showed that HIIT is more effective than CET for reduction of diabetic cardiomyopathy as a complication of diabetes in animal models through suppressing miR-1 and its downstream apoptosis pathway.