28.01.2020 | Thoracic Oncology | Ausgabe 7/2020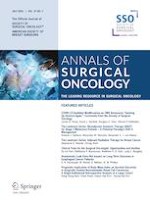 High Neutrophil Count as a Negative Prognostic Factor for Relapse in Patients with Thymic Epithelial Tumor
Zeitschrift:
Autoren:

MD, PhD Satoru Okada, MD, PhD Masanori Shimomura, MD, PhD Hiroaki Tsunezuka, MD Shunta Ishihara, MD Satoshi Ikebe, MD Tatsuo Furuya, MD, PhD Junichi Shimada, PhD Satoshi Teramukai, MD, PhD Masayoshi Inoue
Wichtige Hinweise
Electronic supplementary material
Presented at the 27th European Conference on General Thoracic Surgery of the European Society of Thoracic Surgeons, Dublin, Ireland, 9–12 June 2019.
Publisher's Note
Springer Nature remains neutral with regard to jurisdictional claims in published maps and institutional affiliations.
Abstract
Purpose
Preoperative neutrophil count is reportedly associated with poor prognosis in cancer patients. This study aimed to investigate the clinical significance of pre-treatment peripheral blood cell counts in patients with thymic epithelial tumors (TETs).
Methods
A retrospective review of 71 patients with completely resected TETs [64 thymoma, 6 thymic carcinoma, and 1 thymic neuroendocrine tumor] between 2000 and 2018 was conducted. Associations between tumor recurrence and pre-treatment peripheral blood cell counts of leukocytes (WBC), neutrophils (Neut), lymphocytes (Lymph), monocytes (Mono), and platelets (Plt) were analyzed. Optimal cut-off points were selected using receiver operating characteristic curve analysis to predict tumor recurrence.
Results
High WBC (≥ 7000), Neut (≥ 4450), and Plt (≥ 226 × 10
3
) counts had significantly poor relapse-free survival (RFS), but high Lymph (≥ 1950) and Mono (≥ 400) did not. High Neut had the strongest correlation with recurrence (area under curve, 0.800); we focused on the analysis between high-Neut and low-Neut groups. High Neut count significantly correlated with smoking history, pre-treatment C-reactive protein level, and advanced stage; high Neut count and aggressive histology tended to show correlations. RFS was significantly poorer in the high-Neut group than in the low-Neut group (
p 
= 0.003), with 5-year RFS rates of 63.8% and 96.8%, respectively. High Neut count was a significant adverse predictor for RFS and cumulative incidence of recurrence (
p 
= 0.005 and
p 
< 0.001, respectively). The risk scoring system comprising high Neut count, advanced stage, and aggressive histology demonstrated better prognostic ability than any prognostic factors alone.
Conclusions
High Neut count significantly correlated with TET recurrence, suggesting a negative prognostic effect of latent inflammation in TET patients.