01.12.2018 | Research | Ausgabe 1/2018 Open Access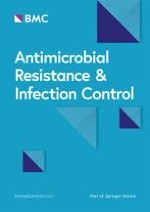 High prevalence of ESBL-Producing
E. coli

in private and shared latrines in an informal urban settlement in Dar es Salaam, Tanzania
Zeitschrift:
Autoren:

Stefan Erb, Lauren D'Mello-Guyett, Hamisi M. Malebo, Robert M. Njee, Fatuma Matwewe, Jeroen Ensink, Vladimira Hinic, Andreas Widmer, Reno Frei
Wichtige Hinweise
Jeroen Ensink is deceased. This paper is dedicated to his memory.
Abstract
Background
Data about the burden of extended-spectrum beta-lactamase (ESBL)-producing microorganisms in Africa are limited. Our study aimed to estimate the prevalence of human faecal ESBL carriage in the community of an informal urban settlement in Dar es Salaam (Tanzania, East Africa) by using environmental contamination of household latrines with ESBL as a surrogate marker.
Methods
Within the context of a large survey in February 2014 assessing 636 randomly selected household latrines for faecal contamination by the detection of growth of
E. coli
and total faecal coliform bacteria, a randomly selected subset of the samples were screened for ESBL.
Results
Seventy latrines were screened for ESBL. An average of 11.4 persons (SD ±6.5) were sharing one latrine. Only three (4.3%) latrines had hand-washing facilities and 50 showed faeces on the floor. ESBL-producing
Enterobacteriaceae
were confirmed in 17 (24.3%) of the 70 latrine samples: 16
E. coli
and 1
Klebsiella pneumoniae.
Five ESBL
E. coli
strains were detected on door handles. The most prevalent ESBL type was CTX-M-1 group (76.5%). Pulsed-field gel electrophoresis typing of a subset of ESBL-producing
E. coli
isolates revealed both diverse singular types and a cluster of 3 identical isolates. There was no significant difference of the latrine and household characteristics between the group with ESBL (
n
= 17) and the group with non-ESBL
E. coli
(
n
= 53) (
p
> 0.05).
Conclusions
Almost a quarter of private and shared latrines in an informal urban settlement in Tanzania are contaminated with ESBL-producing microorganisms, suggesting a high prevalence of human ESBL faecal carriage in the community. Shared latrines may serve as a reservoir for transmission in urban community settings in Tanzania.