01.12.2018 | Research article | Ausgabe 1/2018 Open Access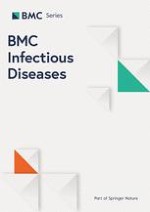 High prevalence of HIV-1 transmitted drug resistance among therapy-naïve Burmese entering travelers at Dehong ports in Yunnan, China
Zeitschrift:
Autoren:

Qicai Xuan, Shuwen Liang, Weihong Qin, Shuting Yang, A-mei Zhang, Ting Zhao, Hui Su, Zhiqing Xia, Binghui Wang, Xueshan Xia
Wichtige Hinweise
Electronic supplementary material
Abstract
Background
The overall success of Human immunodeficiency virus type 1 (HIV-1) antiretroviral therapy (ART) was heavily challenged upon the occurrence of drug resistance. Dehong Prefecture witnessed not only the first report of HIV-1 infection but also the experimental adoption of antiviral treatment in China. The transmission and epidemic of HIV-1 in Dehong is impacted by cross-border activities. The characteristics of HIV-1 drug resistance among therapy-naïve Burmese entering travelers in Yunnan and their speculated origin are still not clarified.
Methods
Two hundred ninety-eight HIV-1 infected Burmese entering travelers at Dehong ports were recruited between 2003 and 2012. The partial HIV-1
pol
gene fragments were amplified and sequenced for the analysis of drug-resistance mutations (DRMs). Phylogenetic analysis on
gag-pol
gene was conducted to elucidate phylogenetic and evolutionary characteristics of these drug resistant strains.
Results
It was figured out that the occurrence ratio of HIV-1 drug resistance among HIV-1 infected entering travelers from Myanmar was up to 12.8%. The resistant mutations covered several types, including one type of PI mutations (L33F), six types of NRTI mutations and seven types of NNRTI. Close genetic relationship was observed in the phylogenetic analysis on
gag-pol
gene among the drug resistant strains respectively from Dehong, other Yunnan areas, neighboring provinces (Guangxi) and neighboring countries (Thailand and Myanmar).
Conclusions
The findings in this study revealed that HIV drug resistant locus is spreading from the population who is receiving drug-resistance treatment to the new infectors, which indicates the urgency of surveillance work on drug resistance among the migrant population with high risks of HIV infection.