31.05.2016 | Magnetic Resonance | Ausgabe 3/2017 Open Access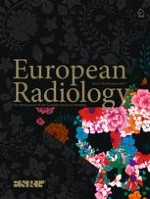 High-resolution T2-weighted cervical cancer imaging: a feasibility study on ultra-high-field 7.0-T MRI with an endorectal monopole antenna
Zeitschrift:
Autoren:

Jacob P. Hoogendam, Irene M. L. Kalleveen, Catalina S. Arteaga de Castro, Alexander J. E. Raaijmakers, René H. M. Verheijen, Maurice A. A. J. van den Bosch, Dennis W. J. Klomp, Ronald P. Zweemer, Wouter B. Veldhuis
Wichtige Hinweise
Electronic supplementary material
The online version of this article (doi:
10.​1007/​s00330-016-4419-y
) contains supplementary material, which is available to authorized users.
Abstract
Objectives
We studied the feasibility of high-resolution T2-weighted cervical cancer imaging on an ultra-high-field 7.0-T magnetic resonance imaging (MRI) system using an endorectal antenna of 4.7-mm thickness.
Methods
A feasibility study on 20 stage IB1–IIB cervical cancer patients was conducted. All underwent pre-treatment 1.5-T MRI. At 7.0-T MRI, an external transmit/receive array with seven dipole antennae and a single endorectal monopole receive antenna were used. Discomfort levels were assessed. Following individualised phase-based B1 + shimming, T2-weighted turbo spin echo sequences were completed.
Results
Patients had stage IB1 (
n
= 9), IB2 (
n
= 4), IIA1 (
n
= 1) or IIB (
n
= 6) cervical cancer. Discomfort (ten-point scale) was minimal at placement and removal of the endorectal antenna with a median score of 1 (range, 0–5) and 0 (range, 0–2) respectively. Its use did not result in adverse events or pre-term session discontinuation. To demonstrate feasibility, T
2
-weighted acquisitions from 7.0-T MRI are presented in comparison to 1.5-T MRI. Artefacts on 7.0-T MRI were due to motion, locally destructive B
1
interference, excessive B
1
under the external antennae and SENSE reconstruction.
Conclusions
High-resolution T2-weighted 7.0-T MRI of stage IB1–IIB cervical cancer is feasible. The addition of an endorectal antenna is well tolerated by patients.
Key Points
•
High resolution T
2
-
weighted 7.0
-
T MRI of the inner female pelvis is challenging
•
We demonstrate a feasible approach for T
2
-
weighted 7.0
-
T MRI of cervical cancer
•
An endorectal monopole receive antenna is well tolerated by participants
•
The endorectal antenna did not lead to adverse events or session discontinuation