06.04.2018 | Cardiac | Ausgabe 9/2018 Open Access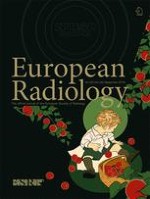 High spatial resolution free-breathing 3D late gadolinium enhancement cardiac magnetic resonance imaging in ischaemic and non-ischaemic cardiomyopathy: quantitative assessment of scar mass and image quality
Zeitschrift:
Autoren:

Maurice B. Bizino, Qian Tao, Jacob Amersfoort, Hans-Marc J. Siebelink, Pieter J. van den Bogaard, Rob J. van der Geest, Hildo J. Lamb
Wichtige Hinweise
Electronic supplementary material
Abstract
Purpose
To compare breath-hold (BH) with navigated free-breathing (FB) 3D late gadolinium enhancement cardiac MRI (LGE-CMR)
Materials and methods
Fifty-one patients were retrospectively included (34 ischaemic cardiomyopathy, 14 non-ischaemic cardiomyopathy, three discarded). BH and FB 3D phase sensitive inversion recovery sequences were performed at 3T. FB datasets were reformatted into normal resolution (FB-NR, 1.46x1.46x10mm) and high resolution (FB-HR, isotropic 0.91-mm voxels). Scar mass, scar edge sharpness (SES), SNR and CNR were compared using paired-samples
t
-test, Pearson correlation and Bland-Altman analysis.
Results
Scar mass was similar in BH and FB-NR (mean ± SD: 15.5±18.0 g vs. 15.5±16.9 g,
p
=0.997), with good correlation (r=0.953), and no bias (mean difference ± SD: 0.00±5.47 g). FB-NR significantly overestimated scar mass compared with FB-HR (15.5±16.9 g vs 14.4±15.6 g;
p
=0.007). FB-NR and FB-HR correlated well (r=0.988), but Bland-Altman demonstrated systematic bias (1.15±2.84 g). SES was similar in BH and FB-NR (
p
=0.947), but significantly higher in FB-HR than FB-NR (
p
<0.01). SNR and CNR were lower in BH than FB-NR (
p
<0.01), and lower in FB-HR than FB-NR (
p
<0.01).
Conclusion
Navigated free-breathing 3D LGE-CMR allows reliable scar mass quantification comparable to breath-hold. During free-breathing, spatial resolution can be increased resulting in improved sharpness and reduced scar mass.
Key Points
•
Navigated free-breathing 3D late gadolinium enhancement is reliable for myocardial scar quantification.
•
High-resolution 3D late gadolinium enhancement increases scar sharpness
•
Ischaemic and non-ischaemic cardiomyopathy patients can be imaged using free-breathing LGE CMR.