01.02.2010 | Original Paper | Ausgabe 2/2010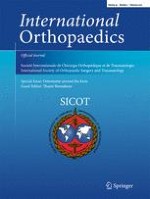 High tibial osteotomy for medial osteoarthritis of the knee: 15 years follow-up
Zeitschrift:
Autoren:

Thami Benzakour, Abderrazak Hefti, Mohamed Lemseffer, Jamal Dine El Ahmadi, Houssam Bouyarmane, Ahmed Benzakour
Abstract
We reviewed 192 patients (224 knees) to assess the results of HTO in medial gonarthrosis during the period 1982–2008. Median follow-up was about 15 years for 134 females and 58 males. Among the knees, 118 had an average opening wedge for varus angle of 13° and 106 had closing wedges of 11°. Knee Society scoring before osteotomies was 68/200 for opening wedge and 81/200 for closing wedge. Modified Ahlback classification showed preoperative grades I (
n
= 44), II (78), III (83) and IV (19). Healing delay was 55 days for closing and 70 for opening osteotomy. Twenty-nine knees were still painful. Twenty-eight patients were revised and 19 others had complications. After opening wedge osteotomy, scoring was 101/200 and valgus angle was 2°. After closing wedge osteotomy, scoring was 94/200 and valgus angle was 4°. Global results were as follows: very good, 12%; good, 30%; fair, 31%; and poor, 27%. HTO decreases stresses on medial compartments and widens joint space. The average of 5° mechanical valgus at the time of osteotomy seems to be quite effective at the follow-up for at least ten years. Our indications are opening wedge for grades 1–3 and wide varus angle, until the age of between 65–70. Closing wedge is indicated for medium varus in younger patients.