01.10.2010 | Translational Research and Biomarkers | Ausgabe 10/2010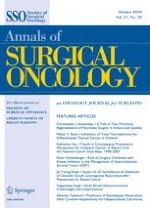 Higher Expression of the Heterogeneous Nuclear Ribonucleoprotein K in Melanoma
Zeitschrift:
Autoren:

PhD Fushi Wen, BS Alex Shen, BS Reneé Shanas, MD Achyut Bhattacharyya, MD Fangru Lian, MD Galen Hostetter, MD, PhD Jiaqi Shi
Wichtige Hinweise
Electronic supplementary material
The online version of this article (doi:
10.​1245/​s10434-010-1121-1
) contains supplementary material, which is available to authorized users.
Abstract
Background
The heterogeneous nuclear ribonucleoprotein (hnRNP) K is an essential RNA and DNA binding protein involved in gene expression and signal transduction. The role of hnRNP K in cancer is relatively understudied. However, several cellular functions strongly indicate that hnRNP K is involved in tumorigenesis. Oncogenes c-Src, c-myc, and eIF4E are regulated by hnRNP K. We have shown an increased cytoplasmic hnRNP K in pancreatic cancer. In the present study, we investigated the altered expression of hnRNP K protein and its correlation with p-ERK in melanoma using human melanoma cell lines and tissue microarray.
Materials and Methods
The protein levels of hnRNP K and p-ERK in 8 human melanoma cell lines and a melanoma progression tissue microarray containing 80 melanoma, 23 dysplastic nevi, and 14 benign nevi specimens were analyzed using Western blot and immunohistochemistry analysis. hnRNP K was knocked down by siRNA, and its effect on melanoma cells was assessed.
Results
We showed a higher hnRNP K protein level in both melanoma cell lines and melanoma tissue specimens, which correlated with a higher c-myc expression. An increase in the cytoplasmic hnRNP K and eIF4E protein levels in melanoma cells is also seen. p-ERK level was also higher in dysplastic nevi and melanoma tissues, but did not correlate with hnRNP K protein level. We then demonstrated that knocking down of hnRNP K by siRNA inhibited melanoma cell growth and colony formation, as well as c-myc expression.
Conclusions
hnRNP K expression correlated with melanoma and may play a role in melanoma tumorigenesis.