01.12.2017 | Research article | Ausgabe 1/2017 Open Access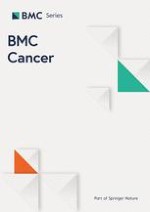 Higher IGFBP-1 to IGF-1 serum ratio predicts unfavourable survival in patients with nasopharyngeal carcinoma
Zeitschrift:
Autoren:

Xinwei Feng, Jianhua Lin, Shan Xing, Wanli Liu, Ge Zhang
Background
Nasopharyngeal carcinoma (NPC) is a malignant head and neck tumour with a distinct racial and geographical distribution that is highly prevalent in Southeast Asia [
1
]. Although radiotherapy and chemotherapy are efficient therapeutic approaches for treating NPC, the disease remains a deadly due to late presentation of the disease and poor prognosis. Because NPC tumours are asymptomatic, advanced disease at time of diagnosis and high rates of recurrence and metastasis underlie the high mortality rate in NPC patients. Therefore, finding new biomarkers or risk factors will contribute to earlier diagnosis and better prognosis for NPC patients.
The insulin-like growth factor (IGF) system consists of a complex network of ligands (IGF-1 and 2), their cognate receptors (IGFR-1 and 2), IGF-binding proteins (IGFBP1-6), and IGFBP proteases. The IGF signalling pathway, which facilitates communication between cells and their physiologic environment, may be involved in human cancer progression and can be targeted for therapeutic intervention [
2
]. Within the blood stream, IGF-1 is bound to IGFBPs and activates IGF-1R following its release from the complex. The interaction between IGFs, IGFBPs and IGFRs promotes cellular proliferation and inhibits apoptosis [
3
].
Several studies have reported a correlation between circulating levels of IGF-1 and IGFBP-1 in healthy people and the risk of cancer development. IGF-1 plasma or serum levels have been reported to be increased in patients with a variety of cancers, including colorectal adenoma, malignant melanoma, breast cancer, non-small cell lung cancer [
4
–
6
]. However, conflicting results have been observed in studies conducted in prostate cancer, epithelial ovarian cancer, breast cancer, and oral cancer [
7
–
10
]. In addition, serum levels of IGFBP-1 have been reported to be increased in metastatic prostate and oral cancers, but not in pancreatic, non-metastatic colorectal or endometrial cancers [
11
–
13
]. Despite considerable research, the role of IGFs in cancer remains unclear, and clinical trials have been unsuccessful [
14
]. Moreover, how IGF-1 and IGFBP-1 are regulated at the expression level remains equivocal in tumour tissues and within the circulating blood stream.
In the present study, we examined the expression patterns of IGF-1 and IGFBP-1 in different NPC and normal nasopharyngeal epithelial (NPE) cells lines. Furthermore, we assessed the serum levels of IGF-1 and IGFBP-1 in NPC patients and healthy control individuals and determined whether altered IGF-1 and IGFBP-1 levels were associated with clinical outcome to assess the potential value of IGF-1 or IGFBP-1 as a prognostic biomarker for NPC.
Methods
Patients, blood and tissue samples
Plasma from 10 NPC patients and 10 healthy volunteers were obtained in October 2012 and used for 8 IGF-related cytokine arrays. Plasma samples were stored at 80 °C and were measured in 3 months.
Sera used for IGF-1 and IGFBP-1 arrays were obtained from 143 patients with NPC between November 2005 and October 2008. The cohort consisted of 119 male patients and 24 female patients. Patients ranged in age from 15 to 71 years (mean, 49.6 years). All sera and plasma were collected from NPC patients at the time of diagnosis and prior to tumour radiation therapy or surgery. The 143 patient characteristics are described in Table
1
.
Table 1
Clinical characteristic of 142 patients with NPC
Characteristic

No. (%)

Sex

 Male

118 (83)

 Female

24 (17)

AGE

 Median

49.6

 Range

15–71

  ≤ 45

73 (51)

 > 45

69 (49)

 Follow-up Time

 Median (range)

73 (13–125)

Tumor Size

 T1 + T2

27 (19)

 T3 + T4

115 (81)

Lymphoid nodal states

 N0-1

76 (53)

 N2-3

66 (47)

Clinical Stage

 1 + 2

15 (11)

 3 + 4

127 (89)

Local-regional relapse

 Yes

16 (11)

 No

126 (89)

Metastasis

 Yes

4 (3)

 No

138 (97)

WHO histological classification

 NKUC

131 (92)

 NKDC

11 (8)

OS rate (%)

 5-year

78.2%
Overall survival (OS) was defined as the interval between the date of surgery and the date of death or the last known follow-up visit. Relapse-free survival (RFS) was defined as the interval between the operation and the date that tumour recurrence or metastasis was diagnosed. All follow-up data from the NPC patients used in this study were available and complete. A total of 31 (21.8%) patients died during follow-up period.
Sera from 128 healthy volunteers (95 males, 33 females) with ages ranging from 21 to 77 years (mean: 47.8 years) were collected and used as controls. Healthy controls were selected from an archive of blood samples, and the control samples were matched as closely as possible to the NPC group with respect to previous handling and the time period of sample collection.
A 5-ml blood sample from each participant was allowed to clot for 30 to 60 min at room temperature. Each clotted sample was centrifuged at 1500 g for 10 min. All sera were then aliquoted and frozen at −80 °C until use.
Paraffin-embedded tumour tissue samples were obtained from 20 NPC patients who underwent surgery between May and December of 2013. None of the patients had received anticancer treatment prior to surgery, and all of the patients had histologically confirmed primary NPC in this retrospective study.
All of the blood and tissues sample were collected at the Cancer Center of Sun Yat-sen University. The study was approved by the Ethics Committee of Sun Yat-sen University Cancer Center and informed consent was obtained from each patient.
Cytokine array
Eight IGF system members (IGF-1, IGF-2, IGF-1SR, IGFBP-1, IGFBP-2, IGFBP-3, IGFBP-4 and IGFBP-6) were quantified in the plasma of 10 NPC patients and healthy volunteers using the RayBio Human Cytokine Antibody Array (#AAH-CYT-5, RayBiotech Inc, GA, USA) according to the manufacturer's instruction.
Cell culture
Two well-differentiated NPC cell lines CNE1 and HK1, three poorly-differentiated NPC cell lines (CNE2, HONE1, SUNE1) and two SUNE-1 subclones (6–10B and 5–8 F) were cultured in DMEM medium (Sigma, Saint Louis, MO, USA). Two undifferentiated NPC cell lines, C666-1 (EBV-positive) and SUNE2 (extremely low concentrations of EBV), were cultured in RPMI 1640 medium (Sigma). Immortalized nasopharyngeal epithelial (NPE) cell lines (N5-Tert, N5Bmi-1, N2-Bmi-1) and normal NPE cell lines (NP460) were cultured in Keratinocyte-SFM medium (10744–019, Gibco) and used as a control. All of the cell lines were maintained in our laboratory, and all media were supplemented with 10% foetal bovine serum (Sigma).
RNA preparation and quantitative real-time PCR
Total RNA was extracted from NPC and nasopharyngeal epithelial cells lines using the Trizol reagent (Invitrogen, USA) according to the manufacturer's instruction. Reverse transcription of total RNA (2 μg) was performed using SuperScript II reverse transcriptase (GIBCO BRL, Grand Island, NY, USA). The quantification of target and reference glyceraldehyde-3-phosphate dehydrogenase (GAPDH) genes was performed using the Power SYBR Green qPCR SuperMix-UDG (Invitrogen, USA) on an iCycler (Bio-Rad, Hercules, CA, USA). CT is defined as the cycle at which the fluorescence is determined to be statistically significant above background. The relative mRNA expression was normalized to the expression of GAPDH, which yielded a 2 -ΔCT value (ΔCT = CT (target gene)–CT (GAPDH)). All reactions were performed in triplicate in three independent experiments. The primers used for real-time RT-PCR were as follows: IGF-1: forward 5′- GCT CTT CAG TTC GTG TGT GGA −3′ and reverse 5′- GCC TCC TTA GAT CAC AGC TCC −3′; IGFBP-1: forward 5′-CTA TGA TGG CTC GAA GGC TC-3 ′ and reverse 5′-CCC ATT CCA AGG GTA GAC G-3′; GAPDH: forward 5′-GCA CCG TCA AGG CTG AG AAC-3′ and reverse 5 ′-TGG TGA AGA CGC CAG TGG A-3′.
Western blot
Total protein was extracted using a lysis buffer and protease inhibitor (Beyotime Biotechnology, China). Equivalent protein amounts were denatured in an SDS sample buffer and then were separated by SDS-PAGE and transferred onto polyvinylidene difluoride membrane. After being blocked with 5% non-fat dry milk in PBS containing 0.05% Tween-20, the blotted membranes were incubated with anti-human IGF-1 and IGFBP-1 antibodies, (1:5000, 1:1000, respectively, R&D systems, USA) and then incubated with a secondary antibody (1:5000, Boster, China). GAPDH protein levels were also determined by using the specific antibody (1:1000, Boster, China) as a loading control.
Immunohistochemistry
Formalin-fixed, paraffin-embedded NPC sections were incubated with a goat polyclonal anti-IGF-1 (1:100, AF-291-NA, R&D, USA) or anti-IGFBP-1 antibody (1:100, AF871, R&D, USA) overnight at 4 °C. After washing in PBST, the tissue sections were treated with a horseradish peroxidase-conjugated anti-goat secondary antibody (1:1000, Zymed). The tissue sections were then developed with 3-diaminobenzidine tetrahydrochloride for 10 s, followed by counterstaining with 10% Mayer's haematoxylin. The degree of staining was reviewed by two independent observers.
ELISA
Serum IGF-1 and IGFBP-1 levels were determined by double-antibody sandwich ELISA according to the manufacturer's instructions (DY291, DY871, R&D systems, USA). Briefly, 96-well microplates were coated with 100 μl/well of the capture antibody (mouse anti-human IGF-1 or IGFBP-1, 4.0 μg/ml) overnight at 4 °C. After blocking with 3% BSA, 100 μl of the test samples (1:100 diluted in 1% BSA) was added and incubated for 2 h at room temperature. Subsequently, 100 μl/well of the detection antibody (biotinylated goat anti-human IGF-1 (150 ng/ml) or IGFBP-1(400 ng/ml)) was added and incubated for 2 h at room temperature. Next, 100 μl/well of Streptavidin-HRP (1:200) was added and incubated for 20 min at room temperature. Finally, the substrate (tetramethylbenzidine) solution was added, and the reaction was terminated using 2 N H 2SO 4 and read at an OD of 450 nm. Each test included a standard control (CV = 12%).
Statistical analysis
All statistical analyses were carried out using the SPSS 20.0 statistical software package (SPSS Inc., Chicago, IL). The Mann–Whitney
U
test was used to evaluate the difference in IGF-1 and IGFBP-1 serum levels between NPC patients and healthy controls. Pearson's chi-squared test was used to analyse the association between IGF-1 and IGFBP-1 levels and the observed clinicopathological characteristics of patients with NPC. Survival curves were plotted by the Kaplan-Meier method and compared using the log rank test. The significance of various variables for survival was analysed using the Cox proportional hazards model (univariate and multivariate analysis).
P
 < 0.05 was considered to be statistically significant in all cases.
Results
Discussion
Here, our study showed that patients with NPC display significantly higher serum levels of IGFBP-1 and significantly lower serum levels of IGF-1 compared to healthy control individuals. Moreover, we observed that higher serum IGFBP-1 levels and an IGFBP-1/IGF-1 ratio significantly correlated with decreased overall survival.
Taken together, our study shows that higher serum IGFBP-1 levels and IGFBP-1/IGF-1 ratio correlate significantly with decreased overall survival in NPC patients. Further validation of these results is needed to determine the potential usefulness of these biomarkers for risk assessment.
Conclusions
Our data reveal that IGFBP-1 expression is upregulated in NPC cell lines and NPC tumour tissues and that IGFBP-1 serum levels are elevated in NPC patients. In addition, we showed that IGF-1 is more weakly expressed in NPC cell lines and tumour tissues and that decreasing serum levels of IGF-1 are observed in NPC patients. Furthermore, we observed that elevated serum levels of IGFBP-1 were significantly associated with shorter OS and RFS in NPC patients. Moreover, higher levels of IGFBP-1 and lower levels of IGF-1 were shown to predict worse outcome in NPC patients, suggesting that the ratio of serum IGFBP-1/IGF-1 represents a potential biomarker for NPC patient prognosis. These findings also highlight the more complex biological activities of IGFBP-1 and IGF-1 and reinforce the need to further clarify the role of the IGF system in NPC.
Acknowledgments
Not applicable.
Funding
This work was supported by the National Natural Science Foundation of China (No. 81472008).
Availability of data and materials
The datasets during and/or analysed during the current study available from the corresponding author on reasonable request.
Authors' contributions
GZ, WLL, and XWF contributed to the conception and design of the study, data acquisition, data analysis and manuscript writing. XWF participated in data acquisition and statistical analysis. SX participated in RT-PCR data collection, read and critical revision of the manuscript. JHL provided patient samples, clinical and laboratory data. All authors read and approved the final manuscript.
Competing interests
The authors declare that they have no competing interests.
Consent for publication
Not applicable.
Ethics approval and consent to participate
This study was approved by the Ethics Committee of Sun Yat-sen University Cancer Center. All patients and healthy volunteers in this study gave written consent, and all relevant investigations were performed according to the principles of the declaration of Helsinki.
Open Access
This article is distributed under the terms of the Creative Commons Attribution 4.0 International License (
http://​creativecommons.​org/​licenses/​by/​4.​0/​
), which permits unrestricted use, distribution, and reproduction in any medium, provided you give appropriate credit to the original author(s) and the source, provide a link to the Creative Commons license, and indicate if changes were made. The Creative Commons Public Domain Dedication waiver (
http://​creativecommons.​org/​publicdomain/​zero/​1.​0/​
) applies to the data made available in this article, unless otherwise stated.