18.10.2017 | Original Paper | Ausgabe 4/2018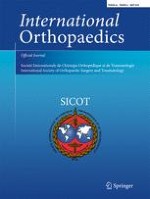 Hip arthroscopy learning curve: a prospective single-surgeon study
Zeitschrift:
Autoren:

Jakub Kautzner, Petr Zeman, Andrej Stančák, Vojtěch Havlas
Abstract
Purpose
Arthroscopy of the hip joint is considered a demanding procedure with long learning curve. There are only a few studies that concentrate on this topic. This prospective clinical study evaluates the learning curve of the hip arthroscopy based on clinical outcomes, surgical time, and complication rate.
Materials
In this study, we first evaluated 150 hip arthroscopy procedures performed by a single surgeon. The patient group consisted of 86 females and 64 males with mean age 37 years (range 16–69). Study cohorts were divided into groups of 50 patients. Surgical time, complication rate and clinical results based on NAHS score were recorded for each group. Statistical analysis of differences between groups was performed using the ANOVA method and paired t-test.
Results
We found a statistically significant decrease of complication rate with more procedures performed. There were significantly better clinical outcomes after at least 100 procedures. No difference in surgical time was found, but towards the end of the learning curve, more complex procedures were performed. The only statistical difference was the portal setup time. The learning curves were constructed based on these results.
Conclusions
Hip arthroscopy provides very good clinical outcomes if precisely indicated and performed. It is, however, a demanding procedure with many possible pitfalls and complications. According to our study, at least 100 procedures are needed to gain basic technical and indication skills. The presence of a more skilled surgeon in the beginning of the learning curve is advised to reduce the complication rate.