01.12.2016 | Research | Ausgabe 1/2016 Open Access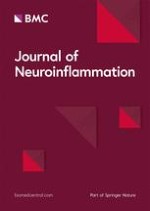 Histamine induces microglia activation and dopaminergic neuronal toxicity via H1 receptor activation
Zeitschrift:
Autoren:

Sandra M. Rocha, Tatiana Saraiva, Ana C. Cristóvão, Raquel Ferreira, Tiago Santos, Marta Esteves, Cláudia Saraiva, Goun Je, Luísa Cortes, Jorge Valero, Gilberto Alves, Alexander Klibanov, Yoon-Seong Kim, Liliana Bernardino
Wichtige Hinweise
Electronic supplementary material
The online version of this article (doi:
10.​1186/​s12974-016-0600-0
) contains supplementary material, which is available to authorized users.
Abstract
Background
Histamine is an amine widely known as a peripheral inflammatory mediator and as a neurotransmitter in the central nervous system. Recently, it has been suggested that histamine acts as an innate modulator of microglial activity. Herein, we aimed to disclose the role of histamine in microglial phagocytic activity and reactive oxygen species (ROS) production and to explore the consequences of histamine-induced neuroinflammation in dopaminergic (DA) neuronal survival.
Methods
The effect of histamine on phagocytosis was assessed both in vitro by using a murine N9 microglial cell line and primary microglial cell cultures and in vivo. Cells were exposed to IgG-opsonized latex beads or phosphatidylserine (PS) liposomes to evaluate Fcγ or PS receptor-mediated microglial phagocytosis, respectively. ROS production and protein levels of NADPH oxidases and Rac1 were assessed as a measure of oxidative stress. DA neuronal survival was evaluated in vivo by counting the number of tyrosine hydroxylase-positive neurons in the substantia nigra (SN) of mice.
Results
We found that histamine triggers microglial phagocytosis via histamine receptor 1 (H1R) activation and ROS production via H1R and H4R activation. By using apocynin, a broad NADPH oxidase (Nox) inhibitor, and Nox1 knockout mice, we found that the Nox1 signaling pathway is involved in both phagocytosis and ROS production induced by histamine in vitro. Interestingly, both apocynin and annexin V (used as inhibitor of PS-induced phagocytosis) fully abolished the DA neurotoxicity induced by the injection of histamine in the SN of adult mice in vivo. Blockade of H1R protected against histamine-induced Nox1 expression and death of DA neurons in vivo.
Conclusions
Overall, our results highlight the relevance of histamine in the modulation of microglial activity that ultimately may interfere with neuronal survival in the context of Parkinson's disease (PD) and, eventually, other neurodegenerative diseases which are accompanied by microglia-induced neuroinflammation. Importantly, our results also open promising new perspectives for the therapeutic use of H1R antagonists to treat or ameliorate neurodegenerative processes.