16.07.2020 | Original Article | Ausgabe 12/2020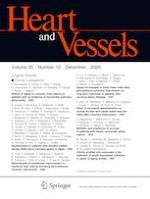 Histone methylation and demethylation are implicated in the transient and sustained activation of the interleukin-1β gene in murine macrophages
Zeitschrift:
Autoren:

Hiroyuki Imuta, Daishi Fujita, Shigeyoshi Oba, Arihiro Kiyosue, Hiroaki Nishimatsu, Kazuo Yudo, Etsu Suzuki
Wichtige Hinweise
Publisher's Note
Springer Nature remains neutral with regard to jurisdictional claims in published maps and institutional affiliations.
Abstract
Macrophages play a crucial role in the development of atherosclerosis. To explore the mechanism by which macrophages attain a proinflammatory phenotype for a sustained period, we stimulated macrophages with lipopolysaccharide (LPS) and interferon-γ (IFN-γ) and measured the interleukin-1β (IL-1β) expression. The IL-1β expression increased transiently, and its expression lasted for, at least, 1 week after the cessation of LPS and IFN-γ stimulation. At the promoter region of the
IL-1β
gene, the demethylation of histone H3 lysine 27 (H3K27) was significantly induced for 1 week after transient stimulation with LPS and IFN-γ. The expression of H3K27 demethylases ubiquitously transcribed tetratricopeptide repeat, X chromosome (UTX) and jumonji domain-containing 3 (JMJD3) increased significantly for 1 week after transient stimulation with LPS and IFN-γ. When the UTX expression was inhibited by using small interfering RNA (siRNA) for UTX, the IL-1β expression was significantly suppressed in both transient and sustained phases, whereas siRNA for JMJD3 significantly inhibited only the sustained phase of the IL-1β expression. These results suggested that H3K27 demethylation was implicated in the transient and sustained increase in the IL-1β expression after LPS and IFN-γ stimulation.