24.01.2017 | Original Article | Ausgabe 3/2017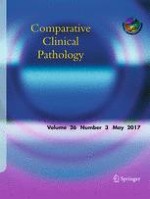 Histopathological study in wild freshwater stingrays
Potamotrygon motoro

in the Peruvian Amazon
Zeitschrift:
Autoren:

Fernando C. Ramos-Espinoza, Carlos T. Chuquipiondo, Enrique M. Serrano-Martínez
Abstract
The genus
Potamotrygon
comprises stingrays endemic to South American rivers.
Potamotrygon motoro
is a popular Amazonian species in ornamental fish trade. Histopathological studies of these species allow knowing the health status of these specimens. The objective of the present study was to investigate the occurrence of histopathological alterations in some tissues of the Amazonian freshwater stingray
Potamotrygon motoro
. Thirty-one specimens were collected from the Amazon basin and transported to a commercial aquarium in district of Juan Bautista, province of Maynas, department of Loreto, Peru. The histopathological study showed monogeneans in gills (2/31),
Piscinoodinium pillulare
in gills and skin (2/31), digenean metacercariae in liver (3/31), and coccidia in the lumen and mucosa of the spiral valve (2/31). In addition, there were found non-infectious lesions in the kidney such as hyaline material accumulation in the renal corpuscles (31/31) and in the epithelium of the renal tubules (31/31). Moreover, there was tubular regeneration in kidney (26/31). Gills showed hyperplasia of the epithelium of the secondary lamellae (24/31), atrophy of primary lamellae (3/31), and epithelial lifting (1/31). We can conclude that because of the mild grade of infestation by parasites in gills and skin, there were non-clinical manifestations of disease in specimens of stingrays. On the other hand, the non-infectious lesions found in the kidneys of all specimens suggest poor quality of the water where the stingrays were captured, and this added to the conditions during the confinement of fish, which are kept the stingrays in the commercial aquariums, could cause subsequently appearance of clinical signs of disease and mortality.