01.08.2011 | Original Paper | Ausgabe 6/2011 Open Access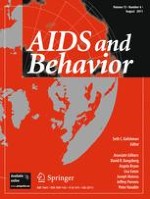 HIV/AIDS Stigma and Refusal of HIV Testing Among Pregnant Women in Rural Kenya: Results from the MAMAS Study
Zeitschrift:
Autoren:

Janet M. Turan, Elizabeth A. Bukusi, Maricianah Onono, William L. Holzemer, Suellen Miller, Craig R. Cohen
Introduction
In sub-Saharan Africa, women comprise approximately 60% of adults living with HIV [
1
] and there is evidence that pregnant women have a higher risk of acquiring HIV infection than non-pregnant women [
2
,
3
]. Vertical transmission of HIV from mother-to-child remains a significant problem in the region; UNAIDS estimates that 390,000 children in sub-Saharan Africa were newly infected with HIV in 2008—around 90% of the global burden of new pediatric infections [
4
]. This situation persists despite the fact that antenatal HIV testing and prevention of mother-to-child-transmission (PMTCT) interventions can reduce vertical transmission of HIV to as low as 1–2% [
5
]. In many countries, HIV testing is now routinely included in antenatal care (ANC) services, unless the pregnant woman explicitly refuses it [
6
,
7
]. The promise of antenatal HIV testing and PMTCT programs has led UNAIDS to call for a "virtual elimination" of mother-to-child transmission of HIV by 2015 [
1
]. However, several challenges remain to achieving successful implementation and scale-up of these services. Although ANC services are visited by the majority of pregnant women at least once during pregnancy, in 2008 only 28% of pregnant women in sub-Saharan Africa received an HIV test [
1
].
HIV/AIDS stigma is a common thread in the narratives of pregnant women affected by HIV/AIDS globally [
8
,
9
]. Because a pregnant woman is often the first family member to be tested for HIV, she may be blamed for bringing the virus into the family and may suffer from adverse consequences of her HIV-positive status disclosure. Fears and experiences of stigma or discrimination from health workers, male partners, family, and community members have been identified as potential explanations for the facts that some pregnant women avoid maternity services altogether [
10
,
11
], refuse antenatal HIV testing [
12
–
14
], or drop out of PMTCT programs once enrolled [
15
]. Theoretical frameworks and research on HIV/AIDS stigma also indicate that different dimensions of stigma—including anticipated stigma, perceived community stigma, enacted stigma, and self-stigma—adversely affect quality of life, healthcare access, and health outcomes [
16
–
18
]. Despite the consensus that HIV/AIDS stigma plays a significant role in deterring pregnant women from utilizing HIV services, few studies have attempted to quantitatively assess how these different dimensions of stigma affect uptake of HIV testing among pregnant women in high HIV prevalence settings.
Understanding women's reasons for HIV test refusal is crucial for the development of interventions to increase antenatal HIV testing and extend the coverage of HIV services for pregnant women and their infants. We used data from the Maternity in Migori and AIDS Stigma Study (MAMAS Study) to examine how pregnant women's perceptions of HIV/AIDS stigma influenced HIV testing uptake at ANC clinics in Nyanza Province, Kenya. Nyanza Province has the highest HIV prevalence in Kenya, with approximately 15% of adults 15–49 years of age testing HIV-positive [
19
]. Prevalence among pregnant women attending ANC clinics is higher, at an estimated 18% within districts included in this study (Family AIDS Care and Education Services program data [
20
]). In this manuscript we aim to a) describe the extent to which pregnant women who do not yet know their current HIV status perceive and fear HIV/AIDS stigma, and b) examine the relationships of quantitative measures of HIV/AIDS stigma to pregnant women's refusal of HIV testing. In particular, we feel that it is important both theoretically and practically to understand the relative importance of different dimensions and sources of HIV/AIDS stigma—especially fears of stigma and negative consequences for self (
anticipated stigma
) versus general perceptions of stigma in the community (
perceived community stigma
)—for pregnant women's uptake of HIV services.
Methods
Discussion
Among women interviewed at their first antenatal clinic visit of the index pregnancy in selected government health facilities in Nyanza Province, Kenya, anticipated HIV/AIDS stigma from the male partner and lack of knowledge of the partner's HIV status were found to be the main factors associated with refusal of HIV testing. We also found that women were more likely to accept HIV testing if they knew someone who was HIV-positive.
The current study has some limitations. First, the study only included pregnant women who had at least one ANC visit and came for their first visit within the first 28 weeks of pregnancy. It is possible that women in the community who come for their first ANC visit later in pregnancy or who do not come for ANC at all may be most affected by HIV/AIDS stigma. Thus, our study may underestimate the effects of HIV/AIDS stigma on HIV test refusal. We are currently collecting community-based qualitative data to explore this issue further. In addition, our results may be subject to social desirability bias. Data on HIV/AIDS stigma were collected through face-to-face interviews, which may have resulted in underreporting.
Acknowledgments
We thank the Kenyan women who participated in the study and shared their experiences with us. We acknowledge the important logistical support of the KEMRI-UCSF Collaborative Group and especially Family AIDS Care and Education Services (FACES). We thank the FACES CCHAs in Migori and Rongo for their diligent work in collecting the data. We gratefully acknowledge the Director of KEMRI and the Director of KEMRI's Centre for Microbiology for their support in conducting this research. We also thank Katie Doolan, Nicole Kley, John Oguda, Abbey Hatcher, and Anna Leddy for their important contributions to this research. The project described was supported by Award Number K01MH081777 from the National Institute of Mental Health. The content is solely the responsibility of the authors and does not necessarily represent the official views of the National Institute of Mental Health or the National Institutes of Health.
Open Access
This article is distributed under the terms of the Creative Commons Attribution Noncommercial License which permits any noncommercial use, distribution, and reproduction in any medium, provided the original author(s) and source are credited.
Open Access
This is an open access article distributed under the terms of the Creative Commons Attribution Noncommercial License (
https://​creativecommons.​org/​licenses/​by-nc/​2.​0
), which permits any noncommercial use, distribution, and reproduction in any medium, provided the original author(s) and source are credited.